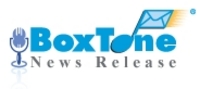 BoxTone's extraordinarily high customer satisfaction rates are no accident
Columbia, MD (PRWEB) April 10, 2009
BoxTone(R), the expert in mobile user management, today announced the results of the company's most recent survey of enterprises and agencies using BoxTone software to manage, monitor and support their BlackBerry platforms.
More than 370 BoxTone customer contacts were asked to provide feedback on a wide variety of topics including their level of satisfaction with the installation, configuration, training and upgrade processes; support team availability and responsiveness; and the software's quality, feature set and return on investment.
Consistent with previous surveys, respondents reported a 97 percent overall satisfaction rate with the BoxTone support organization, and a 95 percent overall satisfaction rate with BoxTone software. Nearly 66 percent of the respondents reported using BoxTone software more than once per day, while 33 percent reported using the software constantly.
Equally important, 100 percent of the respondents said they would recommend BoxTone software to peers, with more than half saying they would "strongly" recommend the software.
"BoxTone's extraordinarily high customer satisfaction rates are no accident," said Alan Snyder, CEO, BoxTone. "The BoxTone Advanced Performance Lab uses rigorous methodologies, industry best practices and customer and partner input to design, build, certify and support the very best BlackBerry platform management software. Our services team is comprised of RIM BlackBerry-Certified System Administrators who expertly deliver the right combination of training and consulting services -- backed by industry best practices -- to ensure that our customers see the maximum ROI in the shortest period of time."
More than half of all survey respondents said they were "very satisfied" with the responsiveness and availability of the BoxTone support organization. Said a systems administrator at one of the nation's largest financial services companies, "BoxTone is one of the few companies who every time I call I get someone knowledgeable about BoxTone and the BlackBerry infrastructure, who's ready to help, ready to take that extra step. My voicemail and emails support questions are responded to quickly as well."
BoxTone support team members - who already draw on experiences gained as BlackBerry platform administrators at primarily large enterprises - are also RIM BlackBerry-Certified, an industry standard in excellence which provides quantifiable proof of skills and knowledge related to the installation, configuration, management and support of the BlackBerry Enterprise Server and BlackBerry smartphones.
Attending WES 2009, May 5-7 in Orlando, sponsored in part by BoxTone? Plan to stop by Booth 311 to meet BoxTone engineering and consulting experts to see how your organization can simplify BlackBerry platform support, prevent service issues and fix incidents faster.
BoxTone will also be holding its Annual User Conference, Monday, May 4, in the WES show hotel.
About BoxTone
BoxTone software is trusted by more than 200 of the world's leading enterprises and government agencies, including 65 in the Global 2000, to manage, monitor and support their BlackBerry platforms. Built on patented SmartMP(TM) technology and conforming to industry standard ITIL best practices, BoxTone's modular platform and role-specific consoles enable IT and services organizations to proactively improve mobile performance, reduce support costs and accommodate rapid device growth, all while guaranteeing the high quality of service that mobile users demand. Learn more from the expert in mobile user management at http://www.boxtone.com, or call 1 410-910-3344.
BoxTone and the BoxTone logo are trademarks of BoxTone, Inc. The BlackBerry and RIM families of related marks, images and symbols are the exclusive properties and trademarks of Research In Motion Limited. All other product or company names mentioned are used for identification purposes only and may be trademarks of their respective owners.
###