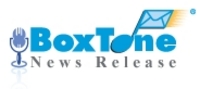 Columbia, MD (PRWEB) April 30, 2009
BoxTone(R), the expert in mobile user management, today announced that its new BoxTone v4.0 software for BlackBerry platform management, monitoring and support will take center stage at WES 2009, May 5-7 in Orlando - perfect timing for organizations seeking to lower support costs and improve performance now, while preparing for upgrades and migrations to BlackBerry Enterprise Server version 5.0.
A WES Gold Sponsor, BoxTone and its team of BlackBerry-Certified System Administrators will be on hand in the Solutions Showcase, Booth 311, to demo the software's key new management features, including: the first-ever pairing of "1-Click Fix-It" capabilities with SmartMP(TM) analytics to enable Help Desk staff to resolve a user issue in a single click; SmartAdvisors to automate and optimize platform load balancing, tuning, deployment and expense control; and SmartAlerts to proactively detect outages and slowdowns.
Visitors to Booth 311 will also learn how unique integrations into the new BlackBerry Administration Service (BAS) can greatly simplify the transition to BlackBerry Enterprise Server version 5.0.
Plus, those who are "first in line" in Booth 311 at Monday's WES 2009 Welcome Reception will secure the most chances to win one of five daily prize packages, as well as have first choice of limited edition retro tee shirts made specifically for the event.
WES attendees seeking new ways to manage the BlackBerry platform, cut support costs, handle the mobile app invasion and get ready for BlackBerry Enterprise Server version 5.0 were also encouraged to attend the following WES Sessions:
Session WA06: BlackBerry Enterprise Server Administration - New Flexibility & Power Unveiled, on Tuesday at 3:15 p.m. in Grand 8A.
Session WW01: Citi and The Home Depot Share Their Support Secrets, on Wednesday at 3:15 p.m. in Grand 6.
Birds of a Feather Sessions for enterprise IT administrators: Five hard-hitting sessions taking place in The Lounge, sponsored by BoxTone, located across from Cypress 1. For the session schedule, click here for The Lounge online.
Session WA35: Go Big, With a Plan: Managing Large-scale, Global Deployments, on Thursday at 10:15 a.m. in Crystal H, featuring Henkel.
About BoxTone
BoxTone software is trusted by more than 200 of the world's leading enterprises and government agencies, including 65 in the Global 2000, to manage, monitor and support their BlackBerry platforms. Built on patented SmartMP(TM) technology and conforming to industry standard ITIL best practices, BoxTone's modular platform and role-specific consoles enable IT and services organizations to proactively improve mobile performance, reduce support costs and accommodate rapid device growth, all while guaranteeing the high quality of service that mobile users demand. Learn more from the expert in mobile user management at http://www.boxtone.com , or call 1 410-910-3344
BoxTone and the BoxTone logo are trademarks of BoxTone, Inc. The BlackBerry and RIM families of related marks, images and symbols are the exclusive properties and trademarks of Research In Motion Limited. All other product or company names mentioned are used for identification purposes only and may be trademarks of their respective owners.
###