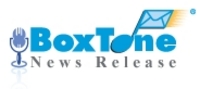 Agencies most actively mobilizing their workers are increasingly turning to BoxTone to ensure their mobile device platforms are sufficiently hardened and resilient.
Columbia, MD (PRWEB) March 17, 2010
BoxTone(R), the expert in mobile user management, today announced it will be appearing in Booth 2301 next week at FOSE, one of the largest government-focused technology events of the year.
BoxTone demonstrations will focus on how its software can enable IT staff to deliver superior BlackBerry smartphone service levels to senior officials, first responders and other critical mobile users, while mitigating risk and lowering support costs. The company will also offer a no-cost trial version of its BoxTone Expert mobile application for the BlackBerry smartphone, called the "on-device help desk" by CIO.com.
"Agencies most actively mobilizing their workers are increasingly turning to BoxTone to ensure their mobile device platforms are sufficiently hardened and resilient," said Brian Murphy, Vice President, Public Sector Practice, BoxTone. "At FOSE Booth 2301, BoxTone looks forward to meeting the many government and contract IT staff tasked with mobility support."
BoxTone's participation at FOSE follows the company's recent launch of its Public Sector Practice. Today, more than 60,000 mobile professionals at various government organizations are supported by the BoxTone software suite, including the U.S. House of Representatives, U.S. Veterans Administration, U.S. Capitol Police, U.S. Environmental Protection Agency and U.S. General Services Administration as well as the State of California, City of Milwaukee and the City of Atlanta.
Key to BoxTone's success in the public sector has been its software's ability to ensure reliable mobile service uptime even in times of crisis, when communication among senior officials and staff surges. The software proactively identifies service issues and enables a 1-click fix, typically in less than three minutes, which can be easily executed by service desk staff will little or no mobile technology expertise.
BoxTone software also tracks and audits all enterprise-connected devices; rapidly identifies rogue, unsecured smartphones and other mobile security policy violations or threats before critical data is compromised; and can confirm successful wipes and kills of such devices. The result is a far more resilient and secure mobile platform that can cost up to one-third less to support.
BoxTone mobile management software is also widely used by leading managed service providers with robust public sector practices including HP Enterprise Services (formerly EDS), Perot Systems, Lockheed Martin and Northrop Grumman.
BoxTone software is available through multiple contract vehicles, including the SEWP and via Sole Source. The company said a GSA listing is coming soon.
About BoxTone
BoxTone software is trusted by more than 230 of the world's leading enterprises and government agencies, including 70 in the Global 2000, to manage, monitor and support multiple smartphone platforms including BlackBerry, Apple iPhone, Google Android and Windows Mobile. Built on patented SmartMP(TM) technology and conforming to industry standard ITIL-ITSM best practices, BoxTone's modular software suite and role-specific consoles enable IT and services organizations to proactively improve mobile performance, reduce support costs and accommodate rapid smartphone growth, all while guaranteeing the high quality of service that mobile users demand. Learn more from the expert in mobile user management at http://www.boxtone.com, or call 1 410-910-3344.
BoxTone and the BoxTone logo are trademarks of BoxTone. The BlackBerry and RIM families of related marks, images and symbols are the exclusive properties and trademarks of Research In Motion Limited. All other product or company names mentioned are used for identification purposes only and may be trademarks of their respective owners
###