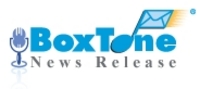 BoxTone is delighted to return as a Gold sponsor of the WES conference.
Columbia, MD (PRWEB) April 20, 2010
BoxTone(R), the expert in mobile user management, today announced it will be returning as a Gold sponsor to the 2010 WES Conference, the premiere BlackBerry event, April 27-29 in Orlando. The WES 2010 conference hotel, The Orlando World Center Marriott, will also play host to BoxTone's Annual User Conference, April 25-26.
BoxTone experts will be on hand to demonstrate how proactive IT Service Management (ITSM) for mobility -- delivered via BoxTone's automated mobility management approach– can enable enterprises, government agencies and MSPs to deliver reliable, high performance mobile services.
"BoxTone is delighted to return as a Gold sponsor of the WES conference, prior to which we will be hosting our Annual User Conference," said Alan Snyder, CEO, BoxTone. "More productivity, revenue and cost savings are being driven by mobile devices like the BlackBerry smartphone than ever before. For IT executives looking to further mobilize their businesses, it's time to automate the management, with BoxTone software."
WES Conference
At WES Booth 108, BoxTone will be running continuous demonstrations of BoxTone v5.0, the modular software platform proven to manage, monitor and support mobile environments of 50-50,000 devices, reduce support costs and enable rapid adoption of employee-owned devices and mobile applications.
BoxTone clients will be also be featured on Tuesday, April 27 at 3:15PM EST in Grand 3 for the WES breakout session WW07: "Mobile Support Nirvana: How HP Enterprise Services, Northern Trust and PNC Bank Automate Mobile Management." The session focuses on how organizations can automate mobile support, decrease workloads and reduce escalations and mobility costs.
Nearly 15 other BoxTone clients including Bank of Montreal, L-3 Communications, MD Anderson Cancer Center and Wells Fargo will also be presenting during the WES on topics ranging from the smartphone lifecycle to mobile field service. Today one in three of the Fortune 100, and one in five of the largest U.S. federal agencies use BoxTone software to automate mobile management.
BoxTone User Conference
Taking place just prior to WES 2010, the BoxTone Annual User Conference provides the company's more than 230 global customers an opportunity to network and discuss best practices with other mobility management professionals. The Conference kicks off on Sunday, April 25 with BoxTone Training and will continue on Monday, April 26 with User Conference Sessions.
BoxTone software uniquely brings together proactive IT Service Management (ITSM) best practices with proven Mobile User Management technology for executives looking to mobilize their businesses more effectively. BoxTone's modular architecture possesses a rare combination of ease of use, rapid time to value, broad functionality and rock-solid scalability, enabling mobile IT operations, mobile IT support and mobile business management to deliver the high quality of service and reliable remote productivity that mobile users demand, but at the lowest possible cost and risk to the business.
The secret is the BoxTone Core, a hardened, scalable platform built from the ground-up with patented SmartMP™ technology to auto-discover, monitor, analyze and control all aspects of a mobile environment.
For more information about BoxTone at WES 2010, click here.
About BoxTone
BoxTone software is trusted by more than 230 of the world's leading enterprises and government agencies, including 70 in the Global 2000, to manage, monitor and support multiple smartphone platforms including BlackBerry, Apple iPhone, Google Android and Windows Mobile. Built on patented SmartMP(TM) technology and conforming to industry standard ITIL-ITSM best practices, BoxTone's modular software suite and role-specific consoles enable IT and services organizations to proactively improve mobile performance, reduce support costs and accommodate rapid smartphone growth, all while guaranteeing the high quality of service that mobile users demand. Learn more from the expert in mobile user management at http://www.boxtone.com, or call 1 410-910-3344.
BoxTone and the BoxTone logo are trademarks of BoxTone. The BlackBerry and RIM families of related marks, images and symbols are the exclusive properties and trademarks of Research In Motion Limited. All other product or company names mentioned are used for identification purposes only and may be trademarks of their respective owners
###