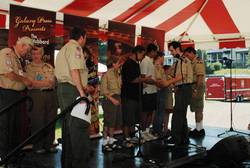 Hubbard, who was one of America's youngest Eagle Scouts, wrote many adventures which were in part inspired by his experience in scouting
Zanesville, OH (PRWEB) July 14, 2010
As part of their celebration of the Centennial for the Boy Scouts of America, the Muskingum Valley Council partnered with Galaxy Press to promote reading while recognizing one of America's youngest Eagle Scouts, L. Ron Hubbard. Over 20 boys met the requirements and were presented their Reading Merit Badge for Boy Scouts and a Belt Loop for Cub Scouts.
"We see Scouting as a gateway to adventure," said Ed Mulholland, executive director of the Muskingum Valley Council of Boy Scouts of America, "Hubbard's books are certainly full of adventure." Mulholland went on to say, "Hubbard, who was one of America's youngest Eagle Scouts, wrote many adventures which were in part inspired by his experience in scouting."
Hubbard was awarded his Eagle status, 5 days after turning 13. He later wrote, "Of all the various information which became important to me, such as photography, wood lore, signaling and many other subjects, the basis of it was laid in Scouting. I am very indebted to a great many, very fine men who gave their time and attention to a restless boisterous and extremely active boy and teenager, and I must have tried their patience many times but I never heard of it from them."
The Adventures in Reading program was endorsed by the American Library Association through the local library systems in Guernsey, Muskingum and Coshocton counties which participated in the Adventures in Reading program, having librarians help the Scouts complete their requirements.
In addition to the merit badges, the day's activities included giant inflatables, a ham radio station (which received upwards of 100 radio operators around the US and Canada calling in their wishes for a successful event), a magic show, a Monkey Bridge, plus hamburgers, hotdogs and ice cream, free to all who attended. The highlight of the day began with a welcome by the Mayor of Zanesville, followed by a special presentation of the James E. West Fellowship Award to L. Ron Hubbard which was accepted by John Goodwin, president Galaxy Press. This was followed by a special performance of the comedy fantasy "The Last Drop" by L. Ron Hubbard as performed by John Mariano (Animaniacs, The Sopranos), Josh Robert Thompson (Final Fantasy 13, Late Late Show with Craig Ferguson as the new voice of Jeff Peterson, the robot co-host) and Brian Wagner (WHIZ TV meteorologist).
Visit http://www.goldenagestories.com for more information. Video footage of the event can be seen at http://www.youtube.com/goldenagestories.
# # #