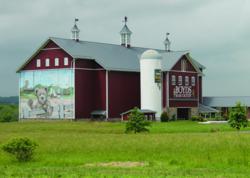 Because of the mixed-use commercial zoning for the property, it's an attractive piece of ground for those who want to create a new business here or move an existing business to this location. — David Sites, Prudential Bob Yost-Sites Homesale
Gettysburg, Pa. (PRWEB) June 07, 2012
Offering more than 128 acres of developable property and an existing 125,000-square-foot facility, the former home of Boyds Bear Country, once the flagship retail outlet for Boyds Collection Ltd., in Gettysburg, Pa., is currently on the real estate market for $2.5 million. Gettysburg-based real estate agent David Sites is representing the property on behalf of Prudential Bob Yost-Sites Homesale. Local zoning for the site allows mixed-use commercial development on the property.
"Gettysburg, Pa. is a wonderful place to do business, and this property offers a great location and existing infrastructure for business development," Prudential's David Sites said.
"Because of the mixed-use commercial zoning for the property, it's an attractive piece of ground for those who want to create a new business here or move an existing business to this location," he continued. "Gettysburg and Adams County boast strong business development resources, and the entire Gettysburg community is supportive of our locally-based businesses."
Potential uses for the property include: mixed-use development, multi-family, office, manufacturing, retail food service, hotel, spa, retail, medical, educational, government, senior housing, recreation and entertainment. The existing buildings on the site, which include a five-story, 125,000-square-foot structure, can be retrofitted and reused by most retailers, schools, institutions, wholesalers and corporate entities.
The property is located at 75 Cunningham Rd. in Gettysburg, the governmental seat of Adams County, Pa. The famed Civil War Battle of Gettysburg was fought here in July 1863 and is regarded as a turning point in the Civil War. Harrisburg, the state capital, is located 40 miles north of Gettysburg. Conveniently located within a 1 1/2-hour driving distance of major cities including Baltimore, Md. and Washington, D.C., the property is easily accessible via Route 15.
Boyds Collection Ltd., recognized for its collectible teddy bears, giftware and collectible home décor items, had operated the popular Boyds Bear Country attraction on the property from 2002-2011. The facility closed to the public in January 2011.
To view additional details of this property, visit http://www.gettysburghomes.net. To request a personal tour and showing of the property, call Prudential Bob Yost-Sites Homesale and David Sites at 717-337-1188 or 717-487-4000. Interested parties may also contact him by e-mailing dlsites@hotmail.com.
Visitation Statistics for Gettysburg

In 2012, visitor traffic to Gettysburg and Adams County is projected to reach 3.5 million visitors.
In 2013, visitor traffic to Gettysburg and Adams County is projected to reach 4 million visitors.
Annual visitor traffic to Gettysburg and Adams County brings approximately $550 million in revenue to Adams County. In 2013, this number is expected to increase by 30 percent. In total, the five-year 150th anniversary commemoration of the American Civil War (2011-2015) is expected to bring approximately $2 billion to the Adams County economy.
For more information on visitation to Gettysburg, contact the Gettysburg Convention & Visitors Bureau at 717-334-6274 or 800-337-5015 or visit http://www.gettysburg.travel.
—30—