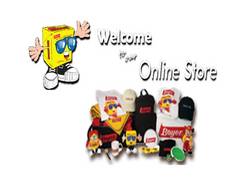 find where Boyer Candy is being sold anywhere in the USA
Altoona, PA (PRWEB) October 14, 2009
Boyer Candy Company, makers of the Famous Mallo Cups, Smoothie Cups, and Peanut Butter Cups, gave it's website a total makeover.
Scheduled to launch the 1st week of October, the site will include a newly expanded on-line store, a newsroom, a virtual tour with a live video, a recipe and nutrition page featuring recipes using Boyer Candy, a fun zone with 9 interactive games for all ages, a new fundraising program, and a store locator that lets the consumer "find where Boyer Candy is being sold anywhere in the USA".
For the history buffs, the site includes The History of Chocolate, Marshmallow, Peanut Butter, Butterscotch, Pretzels, as well as the Boyer Candy Story.
Contact:
Rose Novitsky
(814) 944-9401 EXT. 102
Toll Free (888) 81BOYER
###