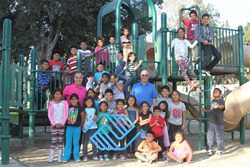 California Boys & Girls Club looks to expand programs for the underprivileged youth
Solana Beach, CA (PRWEB) August 05, 2014
David H. Crean is the CEO of the Boys & Girls Clubs of San Dieguito (Calif.), which already offers a full slate of programs for children and young adults. Crean feels it's vitally important to the community that the club takes it one step further and expand its efforts to Ocean Knoll Elementary.
He and his staff & the Board of Directors have put together a proposal that would expand the club's offerings to include new summer and after-school programming. Needing more space to implement these programs, Crean is also recommending that an addition be built at a local elementary school.
"Opening a designated location that offers quality after-school and summer programs will not only help the elementary students, but the community at large," explained Crean. "Our presence and programs give children, especially those most in need, a safe place to go rather than be subjected to at-risk activities in the community."
He pointed out that a majority of children in the area come from low-income families and are in need of quality after-school activities. "We offer scholarships to those in need," Crean said. "No child is turned away."
The first phase of this project is construction of a new modular unit on the Ocean Knoll Elementary School site. The cost is estimated to be $100,000. Funding for the actual programs and staff will be a separate project and funded through grants and contributions.
In order to raise capital for this construction, Crean has launched a crowdfunding effort though an Indiegogo campaign, which can be viewed at http://www.indiegogo.com/projects/investing-in-youth-providing-great-futures.
Donations of any amount are welcome. It is expected that some of the funding will come from local businesses but support from individuals and other companies is encouraged. If a corporation or individual would like to secure naming rights for three years, a $250,000 donation is requested.
"There is a tremendous need for children to have a place that helps them feel safe and secure, and encourages them to learn and develop, feel loved and live healthy lives, regardless of social-economic status or circumstance," said Crean.
"Many boys and girls are left to find their own recreation and companionship in the streets. An increasing number of children are at home with no adult care or supervision. Young people need to know that someone cares about them."
For further information, visit http://www.indiegogo.com/projects/investing-in-youth-providing-great-futures or the Boys & Girls Clubs of San Dieguito website, http://www.bgcsandieguito.org.
Crean can be reached directly at dcrean(at)bgcsandieguito.org.