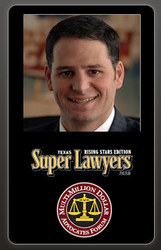 We all share a sense of relief that after three months, oil apparently is no longer spilling into the Gulf
Houston, TX (PRWEB) July 23, 2010
The apparent capping of BP's blown-out well that has been spilling oil into the Gulf of Mexico marks progress, Houston attorney Kurt Arnold said. But an accurate accounting of the spill's long-term economic damage to commercial fishermen, shrimpers and coastal businesses must be performed, Arnold said.
"We all share a sense of relief that after three months, oil apparently is no longer spilling into the Gulf," said Arnold, a partner with Arnold & Itkin LLP, a Houston law firm that represents individuals and business harmed by the oil spill. "Unfortunately, it will take much longer to assess the true economic damage of this environmental catastrophe. An accurate assessment of economic damages to Gulf residents and individuals must be made, and BP and other responsible parties must pay the tab."
Pressure tests so far have offered encouraging signs that BP's placement of a cap last week atop the well has effectively stemmed the flow of crude that was gushing at a rate of 35,000 to 60,000 barrels a day from the well. The federal government has been cautious about the results of the cap, but allowed the testing to continue day-to-day.
Jason Itkin, a partner with Arnold & Itkin LLP, said the final reckoning of the economic damages caused by the spill should make provision for future losses in the event that fish stocks don't recover from BP's oil spill in a short time, or tourists don't come back to the coast because of the stigma of pollution.
"What if shrimpers and commercial fisherman are returning to the dock with empty nets in three to five years?" Itkin asked. "What if businesses that depend on tourists are still struggling then? That's a real possibility that we need to address when awarding economic losses."
Itkin noted that individuals and businesses harmed by the oil spill were eligible to receive compensation for economic damages in addition to temporary emergency payments to make ends meet. BP's relief program is slated to expire after three years. Yet, Gulf coast residents may still be suffering economic losses as a result of the spill for a number of years.
"How can BP or anyone a year from now place a fair value on future economic losses when no one knows whether the fish stocks will recover in one year or ten?" Itkin said. "It's a point we understand and seek to address as we deal with oil spill claims issues on a daily basis. It is easy to lose sight of the fact that the Gulf Coast's economic losses don't stop when the oil stops flowing."
About Arnold & Itkin LLP
The lawyers at Arnold & Itkin LLP, a personal injury law firm based in Houston, Texas, understand the complexities and legalities of maritime law and have a successful track record of verdicts and settlements. The firm provides legal guidance on all aspects of maritime law and the benefits offshore workers are entitled to under the Jones Act, the Death on the High Seas Act, the principle of maintenance and cure, or the Longshore and Harbor Workers' Compensation Act.
The firm handles maritime claims at port cities along the Gulf Coast of Texas, Louisiana, Mississippi and Alabama. The firm can be contacted toll-free at (866) 222-2606 or through the firm's website.
###