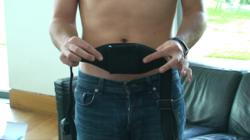 The Thermobalancing Therapy is not only prominent as a natural BPH treatment that cannot harm but has proven its effectiveness.
London, UK (PRWEB) January 29, 2012
Fine Treatment gives amazing tips on how a prostate can be treated from benign prostatic hyperplasia (BPH) without drugs at home by using natural devices invented by Dr. Simon Allen. This natural prostate treatment is beneficial for non-malignant prostate conditions. Another noteworthy point is that it is free from adverse side effects. With this natural treatment for BPH, men don't have to worry about complications from medications ranging from fatigue to sexual dysfunction.
According to the National Institute of Diabetes and Digestive and Kidney Diseases (NIDDK), treatments with medication usually start at a low dose. Later on the dose gradually increases as medication typically cannot improve the condition of a growing prostate gland. Consequently, it increases the risk of side effects, such as erectile dysfunction (ED) or impotence, headache and fatigue, weight gain and depression.
Contrary to medication, the natural prostate treatment with the new Thermobalancing Therapy simply cannot develop any of the side affects and, as has been shown by its users, dramatically reduces the symptoms of prostate conditions. This news makes men's choice of which prostate enlargement treatment to use easier. It is naturally Fine Treatment. Indeed, it is a wise choice for men looking for an effective and complication-free prostate treatment. Read more at http://www.finetreatment.co.uk/natural-alternative/prostate-treatment.html.
"Men can now opt out of medication that is widely promoted but may actually harm them," says Dr. Allen, and adds: "The Thermobalancing Therapy is not only known as a natural BPH treatment, but the one that cannot harm and has a proven efficacy."
Oxford Innovation & Growth has created a case study video that highlights prostate enlargement and its treatment with Dr. Allen's Device for Prostate Care. You can learn from, http://www.youtube.com/watch?v=V5xidswhxJM, that the hugely enlarged prostate gland remarkably shrank from 130 grams to 37 grams, nearly back to its normal size, following the 2-year use of Dr Allen's Device.
Dr Allen's Device for Prostate Care works 24 hours a day and creates an ideal environment for capillaries to stabilize the body temperature inside the prostate tissue. This reduces pressure in the prostate gland and improves the blood flow which cleanses the prostate naturally. Specially designed, Dr Allen's therapeutic device for the treatment of BPH is comfortable to wear and does not affect the day-to-day activities of its users.
About Dr. Simon Allen and Fine Treatment:
Dr. Simon Allen is a highly experienced medical professional. His specialty is in the cardio-vascular field and he has treated patients after a heart attack, with kidneys problems, including kidney stones disease, prostate conditions and back pain. Fine Treatment exclusively offers Dr Allen's devices for chronic prostatitis and BPH treatment, coronary heart disease and to dissolve kidney stones, and back pain and Sciatica relief.
###