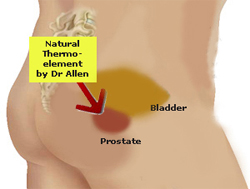 Dr. Allen's therapeutic device treats benign prostatic hyperplasia effectively and supports men's well-being and sex life.
London, UK (PRWEB) May 28, 2012
New Thermobalancing Therapy is a successful natural solution for prostate enlargement that drives away concerns of senior men over negative side effects which can be caused by drugs and prostate removal procedures for benign prostatic hyperplasia (BPH). As men age, certain problems arise and, accordingly, different treatment options are proposed. One of the most common older men problems, namely prostate enlargement, is often treated by conventional medicine with long-term medication courses and BPH surgeries. Both of these options may develop serious adverse side effects.
According to the National Institutes of Health (NIH), "While the life-expectancy gap between men and women has decreased, it's no secret that men still need to pay more attention to their bodies." However, the article in Medical News Today titled Older Men's Health Concerns, published in March 2012, states researchers have found that quality of life and ailments that risk compromising independence are among the health issues of greatest concern to men and 63% of them are concerned about medication's side effects.
The Thermobalancing Therapy is an advanced treatment for the prostate gland that ends men's worries about side effects, as it is completely natural. Now it is high time to find the most effective way of raising senior men's awareness of health-giving benefits of this new therapy which can change their attitude toward medications and surgeries as well as promote well-being and healthy lifestyle.
Fine Treatment offers the new Thermobalancing Therapy that gives men a chance to improve the prostate condition and to stay healthy. Contrary to all other types of mainstream treatments, which may develop side effects, Dr. Allen's Device for Prostate Care has a proven efficacy; watch, for instance, this video testimonial: http://www.youtube.com/watch?v=dCFy_jZgCLw. It shows how a patient has shrunk his prostate and has eased the symptoms of BPH by using Dr. Allen's therapeutic device.
"Senior men don't need to be concerned about side effects of a prostate treatment any longer as the Thermobalancing Therapy is completely safe," says Dr. Simon Allen. "Dr. Allen's therapeutic device treats benign prostatic hyperplasia effectively and supports men's well-being and sex life."
Read more at http://www.finetreatment.co.uk/prostatetreatmentbph/prostatitistreatment.html.
About Dr. Simon Allen and Fine Treatment:
Dr. Simon Allen is a highly experienced medical professional. His specialty is in the internal medicine and cardio-vascular field, and he has treated patients after a heart attack, with kidneys problems, including kidney stones disease, prostate and spine conditions. Fine Treatment exclusively offers Dr Allen's devices for the treatment of chronic prostatitis and BPH, coronary heart disease and to dissolve kidney stones, as well as relieves lower back pain and sciatica.