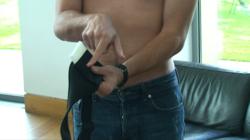 New Thermobalancing therapy not only caters for your sexual life, it also helps prolonging it by increasing the blood supply of the whole region.
London, UK (PRWEB) June 25, 2012
Fine Treatment recommends Dr. Allen's new device for prostate treatment that is sold with the approval of the MHRA, the UK medical devices regulatory authority as Class 1 Medical Device, and has proven efficacy. This device for prostate enlargement does not affect men's sexual activity whereas different prostate removal procedures and BPH drugs may cause sexual dysfunction and other unpleasant symptoms.
A video testimonial recorded by Oxford Innovation Centre of the benefits of the device: http://www.youtube.com/watch?v=V5xidswhxJM.
Prostate surgeries involve hospitalization, general or spinal anesthesia and a surgical procedure, in which tissue is cut away. According to the National Institute of Health (NIH), there are risks as for any surgery: blood loss, breathing problem, infection, pneumonia, heart attack or stroke during surgery, reactions to medications; and there are also risks connected to the prostate tissue removal, such as problems with urine control (incontinence), loss of sperm fertility (infertility), erection problems (impotence) and others.
"In one of the local surveys carried out in my clinic, it was found that erectile dysfunction, one of the consequences of prostatectomy, was the foremost point of concern for even the elderly suffering from benign prostatic hyperplasia", describes Dr. Raza in his article Benign Prostatitis Hyperplasia and adds: "New Thermobalancing therapy not only caters for your sexual life, it also helps prolonging it by increasing the blood supply of the whole region."
The American Urological Association notes that lower urinary tract symptom relief may not be realized for six to 12 months with finasteride or dutasteride. These medications can cause sexual side effects including ejaculatory abnormalities, erectile dysfunction and loss of interest in sexual activity. Other medication Tamsulosin takes several days or weeks to become effective. Common side effects of tamsulosin include dizziness upon standing, vertigo and ejaculation disorders. Alfuzosin that decreases urinary obstruction associated with an enlarged prostate has common side effects such as dizziness upon standing and lightheadedness.
"Seniors' well-being is an important life issue that has become possible to improve by using Thermobalancing Therapy which treats prostate enlargement naturally," says Dr. Allen. "Cost-effective Dr. Allen's therapeutic device is a way to treat prostate enlargement without resorting to BPH drugs or having prostate removal procedures."
You can read more at http://www.finetreatment.co.uk/prostatetreatmentbph/prostatitistreatment.html.
About Dr. Simon Allen and Fine Treatment:
Dr. Simon Allen is a highly experienced medical professional. His specialty is in the internal medicine and cardio-vascular field, and he has treated patients after a heart attack, with kidneys problems, including kidney stones disease, prostate and spine conditions. Fine Treatment exclusively offers Dr Allen's devices for the treatment of chronic prostatitis and BPH, coronary heart disease and to dissolve kidney stones, as well as provide lower back pain relief and sciatica treatment.