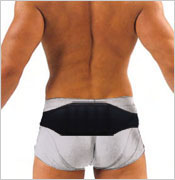 Unlike different conventional treatments, Dr. Allen's therapeutic device cleanses the prostate gland from unnecessary tissue improving men's well-being.
London, UK (PRWEB) May 25, 2013
New insights are shared in 'Older, sicker men should consider avoiding treatment for prostate cancer: UCLA study' article by Stephanie O'Neill, May 20, 2013, which reveals that patients with prostate conditions often receive conventional treatments they later regret due to devastating impact of such treatments on their quality of life. In contrast to other treatment methods, Dr. Allen's Device terminates benign prostate enlargement harmlessly and effectively, states Fine Treatment.
According to O'Neill's article, "The National Urological Association already recommends that men who are not expected to live more than ten years beyond diagnosis of slow growing prostate cancer consider going without surgery, external radiation, or radioactive seed implants. That's because those treatments carry with them the risk of erectile dysfunction, urinary incontinence and bowel problems."
The same concerns are voiced over BPH treatment with prostate surgeries or removal procedures. For instance, Men's-Health Forum on Retrograde Ejaculation after Prostate Surgery shares patients' grief over the reality. A message of 29 July 2008 says, "I am a 56 YO and had the PVP. Big mistake. I became suicidal"; or the post dated 25 June 2011 reads, "Do not get laser prostate surgery – if you still enjoy having sex, you will not afterwards – they don't tell you everything!" On 5 June 2011 a man shares, "I would rather get up 4 times a night and still be able to ejaculate rather than get up twice nightly and have permanent retro. My butcher overplayed the benefits of the surgery".
In most cases surgeries can now be replaced with the Thermobalancing therapy, as Dr. Allen's therapeutic device is able to terminate prostate enlargement effectively. The device places the natural thermo-element to the coccyx area that helps natural warmth to reach the prostate, improving blood circulation locally. No electronics or batteries are involved. Watch a video testimonial recorded by the Oxford Innovation Centre that demonstrates how to use Dr Allen's Device and what its benefits are: http://www.youtube.com/watch?v=V5xidswhxJM.
"The benefits of the Thermobalancing therapy are obvious, as it provides an effective and natural treatment," says Dr. Simon Allen. "Unlike different conventional treatments, Dr. Allen's therapeutic device cleanses the prostate gland from unnecessary tissue improving men's well-being."
For details, please visit Fine Treatment at
http://finetreatment.com/bph-treatment-prostate-enlargement.
About Dr. Simon Allen and Fine Treatment:
Dr. Simon Allen is a highly experienced medical professional. His specialty is in the internal medicine. He has treated a wide range of chronic diseases, including patients after a heart attack, with kidneys problems, including kidney stones disease, prostate and spine conditions, as well as metabolic disorders. Fine Treatment exclusively offers Dr Allen's devices for chronic prostatitis and BPH treatment, coronary heart disease, dissolving kidney stones, as well as back pain and sciatica relief.