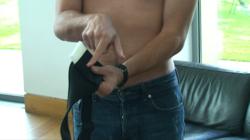 Dr. Allen's therapeutic device is effective, totally harmless and gives men a chance to get a better treatment at an affordable cost.
London, UK (PRWEB) July 11, 2012
Fine Treatment recommends keeping the prostate in a healthy condition by using new Dr. Allen's device which is able to terminate prostate enlargement, reducing the risk of developing complications after prostate surgeries and long-term courses of BPH drugs. This therapy is essential for enlarged prostate as this common disorder is resistant to all sorts of medication. Dr Allen's device is an affordable treatment for men all over the world.
"The Thermobalancing Therapy is a safe natural modality by Dr. Simon Allen which can be used for the treatment of BPH at home and without any adverse effects. Patients, who are used or are using Dr. Allen device, tell that it is very easy to wear it," says Dr. Mohamed S. Awad, Tanta University Hospitals, Egypt. "It is a unique feature that the device can work constantly for 24 hours a day. The device provides a perfect environment for blood to circulate through tiny capillaries in the affected prostate tissues thus reducing the pressure, congestions and swelling associated with BPH."
According to the US National Library of Medicine, National Institutes of Health, the results of an international survey show that BPH, although a benign disease, has a considerable impact on the patient's quality of life. Its progressive nature and the identification of risk factors for progression warrant further investigation. Regarding the side effects of medications, for instance, a study conducted at the Harvard Medical School confirms complications arising from two BPH drugs: tamsulosin (Flomax) which may suddenly make men become lightheaded, and terazosin (Hytrin) which can be responsible for the acute urinary retention.
Unlike BPH drugs and prostate surgeries, Dr. Allen's therapeutic device brings a vital relief to its users making men feel healthier. Over time, enlarged prostate can be reduced. You can watch a short video http://www.youtube.com/watch?v=dCFy_jZgCLw on how this therapy has reversed BPH.
"Men should be careful with long-term courses of BPH drugs and prostate surgeries as both of these treatment options often cause more health problems in the future", says Dr. Simon Allen and adds, "Dr. Allen's therapeutic device is effective, totally harmless and gives men a chance to get a better treatment at an affordable cost."
For more details, please visit Fine Treatment at http://www.finetreatment.co.uk/prostatetreatmentbph/prostatitistreatment.html.
About Dr. Simon Allen and Fine Treatment:
Dr. Simon Allen is a highly experienced medical professional. His specialty is in the internal medicine and cardio-vascular field, and he has treated patients after a heart attack, with kidneys problems, including kidney stones disease, prostate and spine conditions. Fine Treatment exclusively offers Dr Allen's devices for the treatment of chronic prostatitis and BPH, coronary heart disease and to dissolve kidney stones, as well as relieves upper and lower back pain and sciatica treatment.