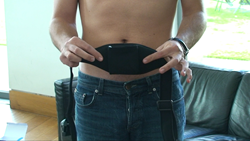 Men from different countries, Mexico, Turkey, USA and Canada confirm the amazing effectiveness of Dr. Allen's therapeutic device which cleanses the prostate gland from the unnecessary tissue reducing its size naturally.
London, UK (PRWEB) April 14, 2013
Dr. Allen's Device for Prostate Care decreases the size of the prostate regardless of its initial volume. The most recent user case comes from Mexico: Alfonso, 69 years of age, has reduced the volume of his enlarged prostate from 42ml to 39ml, considerably easing the troubling symptoms. Another recent case is from Turkey, when Masum's hugely enlarged prostate has already shrunk from 127ml to 117ml, and successful treatment continues, states Fine Treatment.
Fine Treatment is active in monitoring customer treatment progress and collects user feedback regularly. Combined with extensive research, this data enables Fine Treatment to confirm that Dr. Allen's Device reduces prostate enlargement and simultaneously eases lower urinary tract symptoms (LUTS) effectively.
Fine Treatment's customer base covers over 85 countries around the globe.
Dr. Allen's therapeutic device works 24 hours a day creating an ideal environment for blood to pass through capillaries in the affected prostate tissue. The improved blood flow cleanses the prostate and over time allows the body to repair itself through its own restorative mechanisms. Please watch a short informative video: http://www.youtube.com/watch?v=V5xidswhxJM where a man with a hugely enlarged prostate, about 130 grams, has shrunk it to 30 grams by wearing Dr Allen's device for 2 years without any medications. More user feedback is available on the Medical Evidence page on the Fine Treatment website.
At the same time, BPH drugs can develop serious side effects, for instance, Professor of Biochemistry and Urology at the Boston University School of Medicine, A. Traish, says: the side effects are negated once the medicine is ceased but few patients taking Propecia or Avodart experience sexual side effects which are irreversible in nature.
Common prostate surgeries frequently leave men deeply upset with the outcomes. It is a sad reality that after undergoing prostate removal procedures, men typically begin to suffer from new problems. "I'm 44 male, 8 months ago I had Holap operation for BPH and still now I'm living a nightmare. Do not touch your prostate. The annoying symptoms you have now are nothing compared to what you have after surgery," states a post dated 10/2/2011 on Men's-Health Forum on Retrograde Ejaculation after Prostate Surgery.
"New user reports prove the benefits of the Thermobalancing therapy," says Dr. Simon Allen. "Men around the world confirm the amazing effectiveness of Dr. Allen's therapeutic device which cleanses the prostate gland from the unnecessary tissue reducing its size naturally."
For details, visit Fine Treatment at http://finetreatment.com/bph-treatment-prostate-enlargement.
About Dr. Simon Allen and Fine Treatment:
Dr. Simon Allen is a highly experienced medical professional. His specialty is in the internal medicine. He has treated a wide range of chronic diseases, including patients after a heart attack, with kidneys problems, including kidney stones disease, prostate and spine conditions, as well as metabolic disorders. Fine Treatment exclusively offers Dr Allen's devices for chronic prostatitis and BPH treatment, coronary heart disease, dissolving kidney stones, as well as back pain and sciatica relief.