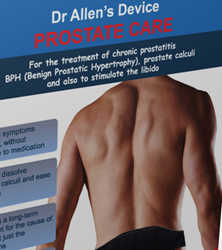 The side-effects-free Dr. Allen's therapeutic device helps to recover from chronic prostatitis and reduces BPH symptoms naturally by improving blood circulation in this vital organ.
London, United Kingdom (PRWEB) June 27, 2013
Prostate problems haunt men of all ages, and things get worse over time. Addressing this important matter, Fine Treatment recommends Dr. Allen's Device for benign prostatic hyperplasia (BPH) and chronic prostatitis. The therapy it enables is effective and natural, and helps to protect men from the problems caused by treating these conditions with potentially harmful antibiotics, medications or surgeries. Professor Ivan G. Aghajanyan, a leading urologist, Chief of Urology Department at the Armenian National Institute of Health, points out that there is a large amount of empirical data confirming the effectiveness of Dr. Allen's Device, and that further scientific research in this area will be in the interest of public health.
The article, 'Treatment of chronic diseases through Dr. Allen's Device: An interview with Professor Ivan G. Aghajanyan' in Panorama.am, dated June 24, 2013, reveals: "As an urologist, I firmly believe that if a patient experiences prostate problems, he needs to undergo a thorough medical examination. Firstly, it has to be established whether or not he, God forbids, has prostate cancer, or another disease in need of treatment. A patient may possibly need a surgery. However, when there are no malignant processes or other deficiencies, the use of Dr. Allen's Device may well be appropriate."
Informing men about the advantages of effective and harmless Thermobalancing therapy is important, as resort to risky prostate surgeries and medication is on the rise. Many testimonials confirm that the prostate treatment developed by Dr. Simon Allen relieves symptoms of BPH and chronic prostatitis without medication. One of video recordings can be viewed here: http://www.youtube.com/watch?v=dCFy_jZgCLw.
Unnecessary surgical treatment of the prostate can break a man's life. Men's-Health Forum on Retrograde Ejaculation after Prostate Surgery is full of devastating experiences. For example, a post of 25 June 2011 says, "Do not get laser prostate surgery – if you still enjoy having sex, you will not afterwards – they don't tell you everything!"
According to The New York Times Health Guide, prostate medications may cause serious side effects. For instance, Alpha-blockers can reduce blood pressure, which may cause dizziness lightheadedness, and fainting. Moreover, tamsulosin (Flomax) is associated with a condition called intraoperative floppy iris syndrome (IFIS), a loss of muscle tone in the iris that can cause complications during eye surgery.
"A treatment of prostate enlargement and chronic prostatitis with Dr. Allen's Device attracts attention of leading urologists as men's well-being can be impaired by inevitable complications arising from long-term intakes of medications and after a prostate surgery," says Dr. Simon Allen. "The side-effects-free Dr. Allen's therapeutic device helps to recover from chronic prostatitis and reduces BPH symptoms naturally by improving blood circulation in this vital organ."
For more details, visit Fine Treatment at http://finetreatment.com/bph-treatment-prostate-enlargement.
About Dr. Simon Allen and Fine Treatment:
Dr. Simon Allen is a highly experienced medical professional. His specialty is in the internal medicine. He has treated a wide range of chronic diseases, including patients after a heart attack, with kidneys problems, including kidney stones disease, prostate and spine conditions, as well as metabolic disorders. Fine Treatment exclusively offers Dr Allen's devices for chronic prostatitis and BPH treatment, coronary heart disease, dissolving kidney stones, as well as back pain and sciatica relief.