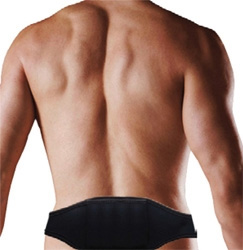 Why men must suffer from a prostate surgery, even which sounds intrigue, like Green Light Laser?"
London, UK (PRWEB) January 03, 2012
New Thermobalancing Therapy improves condition of a prostate gland without negative side effects. You can see the video http://www.youtube.com/watch?v=V5xidswhxJM where Dr. Lee form Oxford Innovation interviews one of the Fine Treatment's patients. David K. presented medical documents confirming that his hugely enlarged prostate shrank after he was wearing Dr Allen's device for about 2 years. Such effectiveness cannot be seen with any other treatment or procedure, even with Green Light Laser which is the most common minimally invasive procedure that is performed for relief of the symptoms that are associated with BPH.
According to The New York Times Health Guide Green Light Laser can usually be done as an outpatient procedure, and there is little risk for bleeding. However, this procedure has complications in the future as 1/3 of the patients have retrograde ejaculation after the procedure and there are more common side effects which include mild burning with urination. Although incontinence is very uncommon after this procedure, especially when it is performed by an experienced Urologist, nobody is protected of it.
The natural BPH treatment invented by Dr. Simon Allen is effective as it works on the cause of a prostate problem. That is why this therapy is successful and also safer than any surgery, including Green Light Laser. Furthermore, other current treatments of BPH, such as medication have severe complications and there is only a hope that someone can avoid them.
"Why men must suffer from a prostate surgery, even which sounds intrigue, like Green Light Laser?" asks Dr Allen. "Fine Treatment offers to men a natural BPH treatment to use at home and do not worry about the future complications."
The Thermobalancing Therapy enabled by Dr Allen's Device for Prostate Care is a unique and extremely effective treatment as it tackles the cause of BPH. The 21st Century Health Television has found the treatment with the Thermobalancing Therapy incredible, so you can watch shows about the amazing Thermobalancing Therapy on different TV channels soon. Read more on our website: http://www.finetreatment.co.uk/natural-alternative/prostate-treatment.html.
About Dr. Simon Allen and Fine Treatment:
His specialty is in the cardio-vascular field and he treated patients with coronary heart disease, joints, kidneys and prostate conditions and later subsequently headed a hospital. Fine treatment produces and distributes devices for chronic prostatitis and BPH treatment, coronary heart disease and recovery after a heart attack, to dissolve kidney stones and to relieve back pain.
###