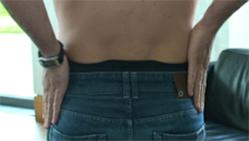 Dr. Allen's therapeutic device maintains the temperature in the prostate tissue at the optimal level, relieving the disturbing BPH symptoms and letting men enjoy their life again.
London, UK (PRWEB) October 25, 2012
Some men try to find relief to benign prostatic hyperplasia (BPH) symptoms in Chinese medicine in order to avoid the side effects of mainstream medications and surgeries. Chinese medicine suggests that enlarged prostate treatment should concentrate on strengthening and boosting the immune system with herbal formulas; however, the remedies on offer do not stop the process of prostate enlargement. To the contrary, Dr. Allen's Device for Prostate Care helps to terminate BPH naturally, Fine Treatment reveals.
As conventional treatments are frequently ineffective for the treatment of chronic diseases, it is not surprising that some people seek to find relief in Chinese medicine. The article in Medicalxpress-news, 18 October 2012, on 'Researchers work to bridge the gap between Chinese and Western medicine' says: When it comes to minor complaints, chronic conditions and even fatal illnesses, we often turn to ginseng and other herbal remedies. That is why traditional Chinese medicine has become an integral part of our life. But how many of us really know the effectiveness of these Chinese medicines from various sources?
Covering 'Enlarged prostate - after care' topic, the US National Institutes of Health (NIH) highlights many herbs and supplements have been tried for treating an enlarged prostate. Generally, manufacturers of herbal remedies and dietary supplements do not need approval from the Food and Drug Administration (FDA) to sell their products. Noting the most popular herbal product, it states: "saw palmetto has been used by millions of men to ease BPH symptoms. It is unclear whether this herb is effective in relieving the signs and symptoms of BPH."
Unlike herbal medicines, the Thermobalancing therapy has demonstrated successful results. For example, a new user of Dr. Allen's therapeutic device Hansruedi, 68, from Switzerland, confirms the efficacy of the Thermobalancing therapy: "Having suffered from BPH and CPPS for almost a year and a half, I bought Dr. Allen's Device for prostate care about a month ago and I am wearing it all the time. My pains went back from level 6 to level 3 by now, which is wonderful! (Pain scale from 1 to 10). I am still experiencing pains in the lower belly and in the anus region. Cold weather and winds are making it more painful (up to level 4 –5) but in general I feel much better now and I am not thinking all the time of my sickness."
You can watch a short video on how to use Dr Allen's device and what its benefits are here: http://www.youtube.com/watch?v=V5xidswhxJM.
"Herbs are beneficial for treating inflammation and as a diuretic but they can't reach the prostate gland easily and are unable to improve blood circulation inside the organ, and this is why they are ultimately hopeless," says Dr. Simon Allen. "Dr. Allen's therapeutic device maintains the temperature in the prostate tissue at the optimal level, relieving the disturbing BPH symptoms and letting men enjoy their life again."
For details, please visit Fine Treatment at
http://www.finetreatment.co.uk/prostatetreatmentbph/prostatitistreatment.html.
About Dr. Simon Allen and Fine Treatment:
Dr. Simon Allen is a highly experienced medical professional. His specialty is in the internal medicine and cardio-vascular field. He has treated a wide range of chronic diseases, including patients after a heart attack, with kidneys problems, including kidney stones disease, prostate and spine conditions, as well as metabolic disorders. Fine Treatment exclusively offers Dr Allen's devices for chronic prostatitis and BPH treatment, coronary heart disease, dissolving kidney stones, as well as lower back pain relief and sciatica treatment.