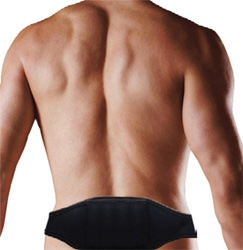 Dr. Allen's therapeutic device can replace long-term BPH medications intake as it helps to terminate prostate enlargement naturally.
London, UK (PRWEB) October 20, 2012
The most pressing issue men faces today is of how a BPH patients can stop taking medications, as the long-term prostate drugs intake can produce serious side effects, and since there is an alternative opinion available instead – the natural Dr. Allen's device for prostate treatment, which terminates prostate enlargement naturally without the resort to additional medications, Fine Treatment reveals.
Dr. Garnick, Clinical Professor of Medicine at the Harvard Medical School says that it's common for patients to go off BPH medication treatments and see how they do. If the symptoms come back, then they will go back on them. Some men are on medicines for BPH for many years. Other men can't tolerate the side effects and choose other treatments, such as surgery, says a report of September 25, 2012.
According to the National Institutes of Health (NIH) report on 'Prostate Enlargement: Benign Prostatic Hyperplasia', BPH medications do not prevent a surgery: as the drug treatment is not effective in many cases, researchers in recent years have developed a number of procedures to help to relieve BPH symptoms in a less invasive way than conventional surgery does.
This data is in correlation with the posts men share, for instance, on Men's-Health forum on Retrograde Ejaculation after Prostate Surgery: a message by J. Scott from Atlanta, Georgia, of 2 Nov 2011, states: "For a middle-aged man, I'm in generally great health, work out 2-3 days a week (weight training and cardio), eat well, have lost almost 70 pounds in the past two years (and have managed to keep it off). However, a couple of years ago I was experiencing all the symptoms of BPH / enlarged prostate. I took virtually every drug on the market to counter this, but nothing worked."
Prostate enlargement is an ageing condition and if there is no urgent need for a man to take BPH drugs, there is no reason for taking them. Long-term medications can typically be replaced with the Thermobalancing therapy. The time period for coming off the tablets should take several weeks, depending on how long a patient has been receiving them. Watch a video testimonial recorded by the Oxford Innovation Centre that demonstrates how to use Dr Allen's device for Prostate Care and its benefits, http://www.youtube.com/watch?v=V5xidswhxJM.
"The benefits of the Thermobalancing therapy are obvious as it is effective and cannot harm," says Dr. Simon Allen. "Dr. Allen's therapeutic device can replace long-term BPH medications intake as it helps to terminate prostate enlargement naturally."
For details, please visit Fine Treatment at
http://www.finetreatment.co.uk/prostatetreatmentbph/prostatitistreatment.html.
About Dr. Simon Allen and Fine Treatment:
Dr. Simon Allen is a highly experienced medical professional. His specialty is in the internal medicine and cardio-vascular field. He has treated a wide range of chronic diseases, including patients after a heart attack, with kidneys problems, including kidney stones disease, prostate and spine conditions, as well as metabolic disorders. Fine Treatment exclusively offers Dr Allen's devices for chronic prostatitis and BPH treatment, coronary heart disease, dissolving kidney stones, as well as lower back pain relief and sciatica treatment.