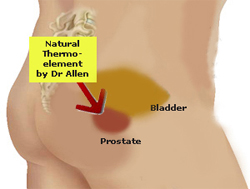 Unlike BPH drugs, Dr. Allen's device treats prostate enlargement slowly but surely without any damage to men's general health.
London, UK (PRWEB) August 14, 2012
As people age, their body's ability to break down substances decreases. So senior men may not be able to metabolize prostate medications well and, moreover, drugs for BPH treatment don't treat the actual cause of the disorder but only mask the symptoms. On the other side, the new Thermobalancing therapy treats prostate conditions persistently easing the symptoms first and gradually working on the actual cause, states Fine Treatment.
A long-term intake of medications may not only leave a health problem untreated but hide the progression of chronic internal diseases. According to the National Institutes of Health (NIH), "doctor may delay using medications until a definite diagnosis is made because medications can hide important symptoms or signs (such as fever and swelling) and thereby interfere with diagnosis." An article by Health Ranger Editor Mike Adams titled "Ten Lies About Health Your Doctor Taught You" of 05/05/2005 reports, "Prescription drugs only mask symptoms. They do nothing to correct the underlying biochemical causes of disease. Simultaneously, most prescription drugs cause nutritional deficiencies which lead to further progression of chronic disease."
Recent data on BPH treatment has shown the widely used Avodart (dutasteride) may increase the risk of High-Grade prostate cancer. In June 2011, the U.S. Food & Drug Administration (FDA) mandated that the labels for Avodart and other drugs in the class known as 5-alpha reductase inhibitors, or 5-ARIs, included warnings about this serious prostate cancer risk. Additionally, in August 2011 Canadian authorities announced that another 5-alpha reductase inhibitor (finasteride) be upgraded to include information regarding the increased risk of male breast cancer.
An alternative to men suffering from BPH drugs is the use of Dr. Allen's Device for Prostate Care, the safest treatment option available on the market, which treats enlarged prostate all hours while it is applied to the body. By restoring the condition of the prostate, it also improves men's sexual health that cannot be achieved with medications. Watch the video on how Dr. Allen's therapeutic device has improved the prostate gland's condition: http://www.youtube.com/watch?v=dCFy_jZgCLw.
"Men should be fully informed about the side effects linked to a long-term intake of BPH medications. On the other side, the termination of BPH progression with the Thermobalancing Therapy is safe," says Dr. Simon Allen. "Unlike BPH drugs, Dr. Allen's device treats prostate enlargement slowly but surely without any damage to men's general health."
Please, read more at
http://www.finetreatment.co.uk/prostatetreatmentbph/prostatitistreatment.html.
About Dr. Simon Allen and Fine Treatment:
Dr. Simon Allen is a highly experienced medical professional. His specialty is in the internal medicine and cardio-vascular field, and he has treated patients after a heart attack, with kidneys problems, including kidney stones disease, prostate and spine conditions. Fine Treatment exclusively offers Dr Allen's devices for chronic prostatitis and BPH, coronary heart disease, dissolving kidney stones, as well as lower back pain and sciatica relief.