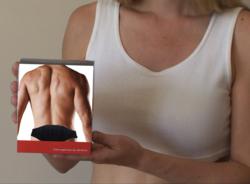 Dr. Allen's therapeutic device reduces the symptoms of BPH and, by improving the condition of the prostate, increases potency and libido.
London, UK (PRWEB) May 24, 2012
Unlike different conventional prostate removal procedures which are risky, new Thermobalancing Therapy is free from adverse side effects, does not affect men's sexual function and, moreover, by improving the prostate gland's condition, may increase potency and libido, Fine Treatment highlights. Dr. Allen's natural device restores the tissue of the enlarged prostate; it does not simply remove the whole prostate or a segment of it as different prostate removal procedures do. Of course urologists try to come up with less traumatic prostate removal procedures for the treatment of benign prostatic hyperplasia (BPH) but all of them are still unsafe.
The National Institutes of Health (NIH) supports a study titled, Sexual Function Following High Energy Microwave Thermotherapy, confirming the differences in sexual function observed in patients depending on how the prostate tissue has been removed. According to this study, 147 patients were randomized to either undergo transurethral resection of the prostate (TURP) or transurethral microwave thermotherapy (TUMT).
Patients were asked to complete a questionnaire evaluating sexual function before, and 3 and 12 months after treatment addressing such points as social status, libido, quality of erection, ejaculation and overall satisfaction of sexual functioning. The study has shown that after undergoing transurethral prostatic resection, more than 1/3 of patients (i.e. 36%) had changes in sexual function compared to the transurethral microwave thermotherapy group (17%). The transurethral microwave thermotherapy group was more satisfied with the sex life.
This study makes it clear that patients have problems with sexual function after any prostate removal procedure. According to the Harvard Medical School, "TUMT is more effective than medication but less effective than TURP" but is a better therapeutic option than surgery for patients who want to preserve sexual function. In particular, ejaculation is often preserved after transurethral microwave thermotherapy while there is significant deterioration following transurethral prostatic resection.
Unlike TURP and TUMT, Dr. Allen's therapeutic device for prostate care has absolutely no negative impact on sexual function, and is effective in helping to treat prostate enlargement naturally. You can watch a video here: http://www.youtube.com/watch?v=dCFy_jZgCLw.
"A healthy sex life is important, so men ought to be protected from prostate removal procedures such as TURP and TUMT which may cause problems to sexual function," says Dr. Allen. "Dr. Allen's therapeutic device reduces the symptoms of BPH and, by improving the condition of the prostate, increases potency and libido."
Read more about this new Thermobalancing therapy at http://www.finetreatment.co.uk/prostatetreatmentbph/prostatitistreatment.html.
About Dr. Simon Allen and Fine Treatment:
Dr. Simon Allen is a highly experienced medical professional. His specialty is in the internal medicine and cardio-vascular field, and he has treated patients after a heart attack, with kidney stones disease, prostate and spine conditions. Fine Treatment exclusively offers Dr. Allen's devices for the treatment of prostate, including chronic prostatitis and BPH, coronary heart disease, dissolving kidney stones, as well as upper and lower back pain and sciatica relief.