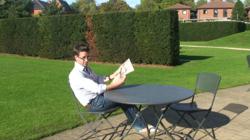 Costing $130, Dr. Allen's therapeutic device is widely affordable and maintains men's well-being and sexual activity.
London, UK (PRWEB) May 19, 2012
When benign prostatic hyperplasia (BPH) is diagnosed, a new therapeutic device designed by Dr Allen ought to be used in the first instance as it is effective, has no adverse impact on men's sexual life and, in fact, makes it even better by improving the condition of the prostate, Fine Treatment highlights. BPH drugs, which are usually prescribed to reduce acute urinary retention, are risky in the long-term as can cause negative side effects, such as erectile dysfunction (ED), loss of libido and ejaculatory problems. The new Thermobalancing Therapy treats BPH gradually as natural healing processes require time to recover the organ but over time generate sustainable results.
The American Urological Association notes that men have to take drugs, like finasteride or dutasteride, for 6 to 12 months to achieve lower urinary tract symptoms relief, and these medications can cause sexual side effects including ejaculatory abnormalities and erectile dysfunction. Other commonly used medications, such as Tamsulosin and Alfuzosin, should be taken for years and can develop dizziness upon standing, vertigo and ejaculation disorders.
Fine Treatment offers not only the most successful natural solution but also the most cost-effective prostate treatment. While long-term medication courses may cost thousands of dollars, Dr. Allen's Device for Prostate Care costs under $130 making it widely affordable. All other natural methods of treatment such as supplements, remedies and manipulations, have to be used continuously for years and their efficacy is limited. It is the reason why the unsafe and even more expensive prostate removal procedures are widely used.
New Thermobalancing Therapy gives men a chance to improve their prostate condition and to stay healthy. Contrary to all other types of treatments, Dr. Allen's Device for Prostate Care has a proven efficacy; watch, for instance, this video testimonial: http://www.youtube.com/watch?v=dCFy_jZgCLw. It shows how a patient of Fine Treatment has shrunk his prostate and has eased the symptoms of BPH.
"The new Thermobalancing Therapy is a safe and effective prostate treatment, particularly for benign prostatic hyperplasia," says Dr. Allen. "Costing $130, Dr. Allen's therapeutic device is widely affordable and maintains men's well-being and sexual activity."
Read more at http://www.finetreatment.co.uk/prostatetreatmentbph/prostatitistreatment.html.
About Dr. Simon Allen and Fine Treatment:
Dr. Simon Allen is a highly experienced medical professional. His specialty is in the internal medicine and cardio-vascular field, and he has treated patients after a heart attack, with kidneys problems, including kidney stones disease, prostate and spine conditions. Fine Treatment exclusively offers Dr Allen's devices for the treatment of chronic prostatitis and BPH, coronary heart disease and to dissolve kidney stones, as well as relieves back pain and sciatica.