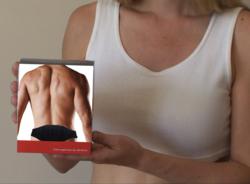 Dr. Allen's device is the most appropriate prostate treatment solution that is effective and totally harmless.
London, UK (PRWEB) April 26, 2012
Fine Treatment recommends new Thermobalancing Therapy in support of a man's sexual life, protecting it from possible complications from prostate removal procedures. Most men want to live longer: those who are in good health as well as those who are unwell but wish to be cured. Potentially risky prostate removal procedures may have a particularly detrimental impact on sexual life of men in both of the mentioned groups and, consequently, have a negative and long-term impact on general health and longevity.
The Italian Society of Sexual Medicine carried out a study, namely "Sexually Active Men Stay Healthy, Live Longer," where it is shown that increased sexual activity produces more testosterone, which leads to less depression and a better cardiovascular performance, which means an improved metabolism. E. Jannini, a co-ordinator of this study, has also stated: "People who have diabetes especially benefit from a healthy sex life and an active sex life also helps avoid prostate problems for men."
Dr Allen's therapeutic device improves the condition of the prostate gland enhancing men's sexual life so that they could keep living healthier and longer. Furthermore, the Thermobalancing Therapy supports a man's sexual drive - an important factor for most men of all ages. It's worth noting that academics from the University of Chicago have found that, across all age groups, men are more interested in sex than women — and the gap increases with age. A total of 71 percent of men who were sexually active above age 75 reported a good sex life, compared with 51 percent of women, while 41 percent of men said they were interested in sex, compared to 11 percent of women.
By reducing the symptoms of BPH, Dr. Allen's device makes the necessity of prostate removal procedures doubtful. You can watch the video on how Dr. Allen's Device for Prostate Care has improved the prostate condition, http://www.youtube.com/watch?v=dCFy_jZgCLw.
"Any prostate treatment must be aimed at the improvement of a man's general and sexual health," says Dr. Simon Allen. "Dr. Allen's device is the most appropriate prostate treatment solution that is effective and totally harmless."
For further information, please visit:
http://www.finetreatment.co.uk/prostatetreatmentbph/prostatitistreatment.html.
About Dr. Simon Allen and Fine Treatment:
Dr. Simon Allen is a highly experienced medical professional. His specialty is in the internal medicine and cardio-vascular field, and he has treated patients after a heart attack, with kidneys problems, including kidney stones disease, prostate and spine conditions. Fine Treatment exclusively offers Dr Allen's devices for chronic prostatitis and BPH, coronary heart disease, dissolving kidney stones, as well as back pain and sciatica relief.