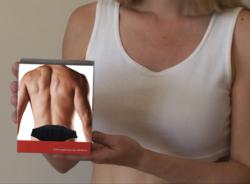 Dr. Allen's therapeutic device helps to improve the condition of the prostate gland gradually and naturally, relieving symptoms firstly in daytime and later at night.
London, UK (PRWEB) September 17, 2012
All men, particularly they are getting older, need to be careful with a long-term prostate drugs intake in order to avoid their adverse side effects, warn recent reports in the press; unlike BPH medications, the Thermobalancing therapy has proven efficacy with no harm to general health, so men can use a new Dr. Allen's Device for prostate treatment in a worries-free way, Fine Treatment reveals.
The persistence of the adverse sexual side effects of Finasteride or Propecia was a major topic of discussion at the recent World Meeting on Sexual Medicine, as stated by Sokolove Law, the nation's largest marketer of legal services, on September 12th, 2012. Changes to the drug label were proposed by the Food and Drug Administration (FDA) last year folloing reports on libido disorders and poor semen quality in users of the drug. Other adverse side effects include sexual dysfunction, erectile dysfunction, male infertility, breast enlargement and even breast cancer in men.
Furthermore, a new article published by The Canadian Press on September 6th, 2012, 'Drug holiday' an option for some prostate cancers, suggests a little time off — a drug holiday — can cut down on troubling side-effects of prostate cancer treatment for some patients without hastening death. The Canadian-led research shows that men who were given intermittent courses of drugs that suppress the production of male hormones lived as long as men who received continuous therapy. But the men on the intermittent course had fewer of the unpleasant side-effects that go along with this type of prostate cancer treatment.
Contrary to a drug therapy, Dr. Allen's therapeutic device helps to reduce inflammation and the size of the prostate naturally. Please watch a short video on how Dr. Allen's device has helped its user to reverse BPH: http://www.youtube.com/watch?v=dCFy_jZgCLw.
"The Thermobalancing therapy is considered as safe alternative to BPH drugs and surgical options. Firstly, this modality has no adverse effects. Secondly, it works continuously on the prostate gland. Thirdly, it doesn't affect the sexual life of the patient. Therefore, I think that this natural option for the enlarged prostate treatment should be taken seriously and I am confident while recommend it to my patients," says Dr. Mohamed S. Awad from Tanta University Hospitals.
Thus, the Thermobalancing therapy is effective in helping men with prostate enlargement relieving symptoms gradually.
"Enlarged prostate can be controlled with the new therapy naturally, so harmful medications given as long-term treatments ought to be accepted only in exceptional circumstances," says Dr. Simon Allen. "Dr. Allen's therapeutic device helps to improve the condition of the prostate gland gradually and naturally, relieving symptoms firstly in daytime and later at night."
Read more at http://www.finetreatment.co.uk/prostatetreatmentbph/prostatitistreatment.html.
About Dr. Simon Allen and Fine Treatment:
Dr. Simon Allen is a highly experienced medical professional. His specialty is in the internal medicine and cardio-vascular field, and he has treated patients after a heart attack, with kidneys problems, including kidney stones disease, prostate and spine conditions. Fine Treatment exclusively offers Dr Allen's devices for chronic prostatitis and BPH, coronary heart disease, dissolving kidney stones, as well as back pain treatment and sciatica relief.