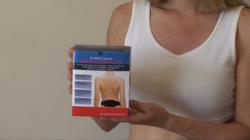 The users don't need to worry about side effects, while receiving a natural treatment with Dr. Allen's therapeutic devices.
London, UK (PRWEB) August 16, 2012
Potentially harmful medications for benign prostatic hyperplasia (BPH) and lower back pain/sciatica, which are usually prescribed for life, can now be replaced with the new Thermobalancing therapy which provides an exceptional treatment free from any side effect and is available worldwide, Fine Treatment reveals. Medications can provide a quick pain relief or help to relieve an acute urinary retention but life-long intake of painkillers and drugs must be considered carefully as there is a risk of serious complications.
According to the Must for Seniors website, "If you are like most people over 65, you're taking several different medications every day. You probably also see several healthcare professionals, manage at least one chronic condition and use more than one pharmacy". In 2008, more than 680,000 people over age 65 went to the emergency room because of adverse reactions to medications, as reported in 2011 by the Substance Abuse and Mental Health Services Administration, USA.
The risk of experiencing low back pain from disc disease or spinal degeneration increases with age, while BPH is a condition intimately related to ageing as the prostate continues to grow during most of a man's life, the National Institute of Health (NIH) highlights. However, it doesn't mean that people have to stick to drugs for life. Moreover, painkillers and medications for enlarged prostate are not safe. For instance, a study conducted at the Harvard Medical School confirms complications arising from two common BPH drugs: tamsulosin (Flomax) which may suddenly make men become lightheaded, and terazosin (Hytrin) which can be responsible for the acute urinary retention.
The Thermobalancing Therapy is as an appropriate solution for BPH and lower back pain treatment as, contrary to drugs, Dr. Allen's devices help to restore the tissue of the affected organs naturally. Oxford Innovation has released testimonials that confirm the benefits of Dr Allen's therapy; watch a short video here: http://www.youtube.com/watch?v=dCFy_jZgCLw.
"Instead of harmful medications, which have become an integral part of life of the seniors, Fine Treatment offers a therapy that steadily reduces BPH and back pain symptoms," says Dr. Simon Allen. "The users don't need to worry about side effects, while receiving a natural treatment with Dr. Allen's therapeutic devices."
You can read more at http://www.finetreatment.co.uk/prostatetreatmentbph/prostatitistreatment.html.
About Dr. Simon Allen and Fine Treatment:
Dr. Simon Allen is a highly experienced medical professional. His specialty is in the internal medicine and cardio-vascular field. He has treated a wide range of chronic diseases, including patients after a heart attack, with kidneys problems, including kidney stones disease, prostate and spine conditions, as well as metabolic disorders. Fine Treatment exclusively offers Dr Allen's devices for the treatment of chronic prostatitis and BPH, coronary heart disease and to dissolve kidney stones, as well as relieves back pain and sciatica.