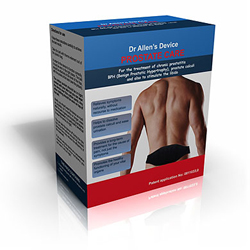 Dr. Allen's therapeutic device cleanses the prostate gland from unnecessary tissue improving potency and libido without suppressing these functions.
London, UK (PRWEB) October 21, 2012
Who shall decide whether a man undergoes a prostate surgery or not? This critical question must be decided on by the man himself, whose prostate gland is under fire. A doctor can suggest a prostate removal procedure but, as 'Money and Medicine' show highlights, it is not always the case that a surgeon actually decided in favour of a surgery, and it is important to bring other options on board as Dr. Allen's device assists recovery from prostate enlargement and chronic prostatitis naturally without any complications, Fine Treatment reveals.
Roger Weisberg programme producer of PSB News-Hour 'Money and Medicine' believes it is critically important to try to capture the decision-making process and then to follow-up to see the procedures and the consequences of those decisions. His show of 25 September 2012 says that medical decision-making is of critical importance if we're going to address this health care crisis because the old paradigm is you refer to the white coat, "doctor knows best." We ask the surgeon, "Do I need surgery?" and not surprisingly, the surgeon is going to say "yes."
'Don't rush into a prostate operation... it could be the worst thing you do' article by Dr. Chris Parker in Daily Mail, of 23 June 2012, highlights: "Almost immediately, men face a decision about treatment – and the first impulse is, for many, to want it cut out. As an oncologist with more than 15 years specialising in the condition, you might expect me to agree. But I urge patients not to be so hasty. Mounting evidence shows that surgery is not always the best treatment."
While the opinion of a leading oncologist is to think carefully before accepting a prostate surgery for patients with prostate cancer, it is alarming that the removal procedures are so common in cases of benign prostatic hyperplasia (BPH). For instance, according to the National Institutes of Health (NIH), more than 400,000 TURPs are performed each year in the US, and there are many other types of surgical interventions.
Contrary to prostate surgeries, Dr. Allen's therapeutic device for prostate care helps to terminate the process of prostate enlargement and reduce the size of the prostate naturally. Please watch a short video on how Dr. Allen's device has helped one of its users to reverse BPH: http://www.youtube.com/watch?v=dCFy_jZgCLw.
"The benefits of the Thermobalancing therapy are obvious as it is effective, simple and harmless," says Dr. Simon Allen. "Dr. Allen's therapeutic device cleanses the prostate gland from unnecessary tissue improving potency and libido without suppressing these functions."
For details, please visit Fine Treatment at
http://www.finetreatment.co.uk/prostatetreatmentbph/prostatitistreatment.html.
About Dr. Simon Allen and Fine Treatment:
Dr. Simon Allen is a highly experienced medical professional. His specialty is in the internal medicine and cardio-vascular field. He has treated a wide range of chronic diseases, including patients after a heart attack, with kidneys problems, including kidney stones disease, prostate and spine conditions, as well as metabolic disorders. Fine Treatment exclusively offers Dr Allen's devices for chronic prostatitis and BPH treatment, coronary heart disease, dissolving kidney stones, as well as lower back pain relief and sciatica treatment.