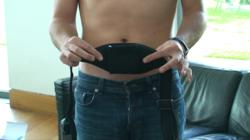 Dr. Allen's natural device provides the therapy that helps to terminate BPH by improving the blood circulation in the prostate.
London, UK (PRWEB) May 04, 2012
Fine Treatment recommends new Thermobalancing Therapy as an essential alternative to a whole range of medications and antibiotics that assists in improving the enlarged prostate condition. The side effects which patients may experience while taking various drugs can now be avoided by wearing Dr. Allen's therapeutic device. It's important for men to be aware of this new therapy while choosing a treatment for the affected prostate. This is not an easy mission, as according Daily Mail: "Two-thirds of men do not know where their prostate is and almost half are unaware of its function, new research reveals." So, why does a man need to know about prostate enlargement treatment options?
According to experts from E-medicine, a man's prostate gland usually starts to enlarge after he reaches 40 years of age. This condition is called benign prostatic hyperplasia (BPH). The process of enlargement is aggressive and, as a result, more than half of all men over the age of 50 suffer from BPH. Unfortunately, many of these men suffer in silence, too embarrassed to discuss the problem. So typically a man starts to see doctors after the symptoms of BPH have progressed to some degree and emergency procedures to relieve them are necessary. According to the National Institutes of Health (NIH), "Sometimes a man may not know he has any obstruction until he suddenly finds himself unable to urinate at all. This condition, called acute urinary retention, may be triggered by taking over-the-counter cold or allergy medicines."
Dr. Allen's therapeutic device offers a localised treatment. It is specially designed to be closer to the prostate gland and works all the hours while it is worn. The device treats the prostate by maintaining a constant temperature in the affected organ with the help of a unique thermo-element made of a mixture of natural ingredients. As a result of this therapy, the swelling of the prostate gland decreases that allows the normalised blood flow to wash out the overgrown prostate tissue. The following video: http://www.youtube.com/watch?v=dCFy_jZgCLw presents medical documents describing how this natural therapy has reversed BPH.
"The only way to treat BPH harmlessly and effectively is by improving the blood flow in the prostate tissue," says Dr. Simon Allen. "Dr. Allen's natural device provides the therapy that helps to terminate BPH by improving the blood circulation in the prostate."
Dr. Allen's therapeutic device helps patients with BPH to avoid drugs. Read more at http://www.finetreatment.co.uk/prostatetreatmentbph/prostatitistreatment.html.
About Dr. Simon Allen and Fine Treatment:
Dr. Simon Allen is a highly experienced medical professional. He qualified as a medical doctor 40 years ago, and subsequently headed a hospital. Fine Treatment offers devices for prostate treatment, to dissolve kidney stones, to relieve back pain, including sciatica, and for coronary heart disease treatment and angina relief.