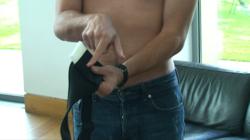 Dr. Allen's device provides a unique stand-alone treatment for the prostate, and is particularly effective for BPH.
London, UK (PRWEB) March 21, 2012
Benign prostatic hyperplasia (BPH) can be treated solely with the new natural prostate therapy which, by improving the blood circulation in the prostate locally, leads to the enlarged prostate shrinkage, states Fine Treatment. Consequently, this eases the symptoms of BPH and terminates the necessity of taking medications or having prostate surgeries which are potentially dangerous for men's general health. As has been mentioned in the Dot.Med.News, approximately 8.4 million men over the age of 50 in the US are candidates for BPH treatment. More precisely, this number is divided between the following groups: 3.0 million age 50 to 59; 2.6 million age 60 to 69 and 2.8 million age 70 to 79.
According to the National Institute of Diabetes and Digestive and Kidney Diseases (NIDDK), medication and consequent surgery are the main BPH treatment options. Prescription drugs allow patients to take several medications for prostate enlargement. Side effects - such as impotence, decreased libido, dizziness, headaches and fatigue - do frequently occur. Patients on prescription drugs usually have to take them daily for the rest of their lives. In many cases, prescription drugs lose their effectiveness after a while and the prostate continues to grow. Eventually patients have to undergo a surgical treatment. Prostate surgery involves removing the part of a prostate that constricts the bladder and urethra or the whole prostate, and consequently patients may experience different complications.
Unlike medication and surgery, Dr. Allen's Device for Prostate Care relieves the symptoms of BPH naturally and effectively. A testimonial video recorded by the Oxford Innovation confirms that Dr. Allen's device has successfully improved the condition of the prostate gland, http://www.youtube.com/watch?v=V5xidswhxJM.
"There is no similar prostate remedy on the world market. It is important to note that the Thermobalancing Therapy has a proven efficacy and cannot harm," says Dr. Allen. "Dr. Allen's device provides a unique stand-alone treatment for the prostate, and is particularly effective for BPH."
Dr. Allen's Device for Prostate Care cleanses the prostate tissue naturally by improving the blood flow inside the prostate gland. Read more at http://www.finetreatment.co.uk/prostatetreatmentbph/prostatitistreatment.html.
About Dr. Simon Allen and Fine Treatment:
Dr. Simon Allen is a highly experienced medical professional. His specialty is in the internal medicine and cardio-vascular field, and he has treated patients after a heart attack, with kidneys problems, including kidney stones disease, prostate and spine conditions. Fine Treatment exclusively offers Dr. Allen's devices for prostate treatment: chronic prostatitis and BPH, coronary heart disease, dissolving kidney stones, back pain and sciatica relief.