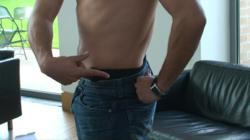 Dr. Allen's therapeutic device is widely affordable internationally offering a unique way to relieve disturbing BPH symptoms caused by enlarged prostate without drugs.
London, UK (PRWEB) October 04, 2012
BPH patients wearing Dr. Allen's Device for Prostate Care typically observe improvement to prostate enlargement symptoms in 3-months time; remarkably, a new case study shows the signs of improvement can be seen even sooner, Fine treatment reveals. Moreover, the improvement to BPH symptoms is reached naturally, without prostate medications which, with a long-term intake, produce severe adverse side effects.
Joe from Los Angeles, USA bought Dr Allen's device in September 2012 and wrote: 'I tried the belt on after a few adjustments and it feels great almost like it's not on.' Just weeks later, on 2 October 2012, Joe shares: "I have been using the device for a few weeks for my BPH and I am starting to feel better already. For the past few months I would have a lot of urges to void on the way to work. Today was so much better. Will continue to wear the device. Thanks."
Worn as a belt, Dr Allen's Device works 24 hours a day locally on the prostate improving blood circulation in the affected prostate tissue. Please watch a short video: http://www.youtube.com/watch?v=dCFy_jZgCLw that discusses medical evidence on how this natural Thermobalancing therapy has helped a patient with enlarged prostate.
BPH drugs are risky as sexual problems may follow. Researchers from the Boston University School of Medicine (BUSM), in collaboration with colleagues from Denmark and Germany as well as Lahey Clinic, have found that 5a-reductase inhibitors (5a-RIs), while improving urinary symptoms in patients with benign prostatic hyperplasia (BPH), produce significant adverse effects in some individuals, including loss of libido, erectile dysfunction (ED), ejaculatory dysfunction and potential depression. These findings were published in the Journal of Sexual Medicine in 2011.
BPH patients share their experiences regarding prostate drugs on the Proscar, Finasteride Forum. For example, on 17 Apr 2008 Mr K. from the UK wrote, "Finasteride has unequivalently ruined my life. The sex drive has been washed from my brain. I can still get erections but the pleasure sensation in my brain has gone. Worse than that though are the other side effects, my skin has aged by thirty years underneath my eyes."
"The prevention of health problems linked to BPH drugs has now become possible with the Thermobalancing therapy which treats conditions naturally," says Dr. Simon Allen. "Dr. Allen's therapeutic device is widely affordable internationally offering a unique way to relieve disturbing BPH symptoms caused by enlarged prostate without drugs."
Dr. Allen's Device for Prostate Care improves the condition of the prostate gland at the capillary level without any BPH drugs or removal procedures. You can read more at http://www.finetreatment.co.uk/prostatetreatmentbph/prostatitistreatment.html.
About Dr. Simon Allen and Fine Treatment:
Dr. Simon Allen is a highly experienced medical professional. His specialty is in the internal medicine and cardio-vascular field. He has treated patients after a heart attack, with kidneys problems, including kidney stones disease, prostate and spine conditions. Fine Treatment exclusively offers Dr Allen's devices for the treatment of chronic prostatitis and BPH, coronary heart disease and to dissolve kidney stones, as well as lower back pain and sciatica treatment.