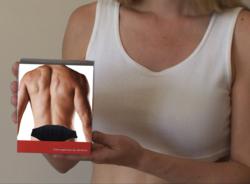 Dr. Allen's device is the only natural way to stop the prostate growth and to enhance men's potency and libido.
London, UK (PRWEB) April 22, 2012
The new Dr. Allen device treats prostate enlargement all the time while it is applied to the body reducing the size of the enlarged prostate and promoting a good sexual life, states Fine Treatment. Unlike other surgical treatments that are focused on removing all or a part of the prostate gland, new Thermobalancing Therapy gets closer to the damaged prostate terminating the progression of the disease gradually and, thus, enhancing a men's sexual activity. It is a very important issue as men have a longer sexually active life expectancy and that most sexually active men report a good quality sex life.
Recent data from the National Social Life, Health and Aging Project (NSHAP) indicate that more than half of people aged 57-85 and about a third of those aged 75-85 are sexually active and that physical health is significantly correlated with sexual activity and many aspects of sexual function, independent of age.
The article in BMJ, 2010, "Sex, health, and years of sexually active life gained due to good health", has established that sexual activity, quality of sexual life, and interest in sex were positively associated with health in middle age and later life. Sexually active life expectancy was longer for men, but men lost more years of sexually active life as a result of poor health than women.
Any removal of the prostate tissue can make men's general health poorer, for example, according to the article Green Laser Treatment for BPH published by Prostate-Facts.com: "A very common side effect after TURP is known as retrograde ejaculation. This means that during orgasm, semen passes into the bladder rather than through the penis. The semen is then rescinded the urine during the next rose. The risk of retrograde ejaculation after TURP is high, up 90 percent."
Dr. Allen's Device for Prostate Care improves the condition of the prostate without any side effects, see the video http://www.youtube.com/watch?v=dCFy_jZgCLw.
"New Thermobalancing Therapy improves the blood circulation in the prostate tissue terminating the progression of benign prostatic hyperplasia," says Dr. Simon Allen. "Dr. Allen's device is the only natural way to stop the prostate growth and to enhance men's potency and libido."
Read more at
http://www.finetreatment.co.uk/prostatetreatmentbph/prostatitistreatment.html.
About Dr. Simon Allen and Fine Treatment:
Dr. Simon Allen is a highly experienced medical professional. His specialty is in the internal medicine and cardio-vascular field, and he has treated patients after a heart attack, with kidneys problems, including kidney stones disease, prostate and spine conditions. Fine Treatment exclusively offers Dr Allen's devices for chronic prostatitis and BPH, coronary heart disease, dissolving kidney stones, as well as back pain and sciatica relief.