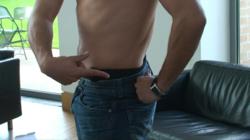 By treating prostate enlargement naturally, Dr. Allen's therapeutic device does not compromise men's sexual function.
London, UK (PRWEB) August 15, 2012
BPH surgeries are risky as the resultant sexual problems are common, so the safe Thermobalancing therapy ought to be considered as the first treatment option for enlarged prostate, Fine Treatment highlights. Designed to be worn as a belt, a new Dr. Allen's therapeutic device for prostate care reduces the symptoms of enlarged prostate gradually protecting men from negative side effects linked to surgeries. Medical staff and literature often list possible complications after BPH surgeries and give percentages of their occurrences; however, the severity of their impact on the patients is rarely explained in full.
Normal sexual life is an important issue for every man. For instance, the Mayo Clinic highlights, "Sexual health is important at any age. And the desire for intimacy is timeless. While sex may not be the same as it was in your 20s, it can still be as fulfilling as ever. Discover which aspects of sexual health are likely to change as you age — and how you and your partner can adapt."
Thus any treatment for BPH, whether natural, medical or surgical, must take a patient's overall well-being into consideration, so that the lower urinary tract symptoms (LUTS) are effectively relieved with the smallest risk. These are the exact considerations addressed by Dr. Simon Allen and his invention. The Thermobalancing therapy enabled by Dr Allen's device is a natural treatment method which gives men a chance to relieve BPH symptoms and maintain a sexually active life. You can watch the video testimonial: http://www.youtube.com/watch?v=dCFy_jZgCLw which shows documental evidence on how a patient has shrunk his prostate without BPH surgeries by solely wearing Dr. Allen's device.
"Although effective in alleviating symptoms, TURP carries a higher risk of morbidity and complications, including sexual side effects (mainly ejaculatory dysfunction), than medical therapy or minimally invasive techniques," states a scientific article entitled "Treatment and Pharmacologic Management of BPH in the Context of Common Comorbidities" by M. O'Leary MD, published in 2006 in the American Journal of Managed Care.
The devastation men can feel after a prostate surgery is regularly expressed in Men's-Health forum on Retrograde Ejaculation after Prostate Surgery. For instance, a message posted on 2 October 2011 says, "I'm 44 male, 8 months ago I had Holap operation for BPH and still now I'm living a nightmare. Do not touch your prostate. The annoying symptoms you have now are nothing compared to what you have after surgery."
"Contrary to BPH surgeries, the Thermobalancing therapy is both effective and safe," says Dr. Simon Allen. "By treating prostate enlargement naturally, Dr. Allen's therapeutic device does not compromise men's sexual function."
Please read more at
http://www.finetreatment.co.uk/prostatetreatmentbph/prostatitistreatment.html.
About Dr. Simon Allen and Fine Treatment:
Dr. Simon Allen is a highly experienced medical professional. His specialty is in the internal medicine and cardio-vascular field, and he has treated patients after a heart attack, with kidneys problems, including kidney stones disease, prostate and spine conditions. Fine Treatment exclusively offers Dr Allen's devices for chronic prostatitis and BPH, coronary heart disease, dissolving kidney stones, as well as back pain treatment and sciatica relief.