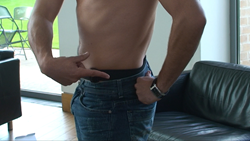 London, UK (PRWEB) May 11, 2013
Blood circulation plays a crucial role in the human body and Dr. Allen's therapeutic device, by increasing the blood flow, cleanses an enlarged prostate from the unnecessary tissue, despite the small or large size of it, as have been reported by different patients, whereas medication doesn't reach a prostate gland and invasive procedures by eliminating the prostate tissue cause inevitable complications, Fine Treatment reveals.
Recent feedback from Mr Vega, 69, has shown improvement in lower urinary tract symptoms and decrease of prostate volume on 10% after four months of wearing Dr. Allen's device for prostate care. In accordance to his latest medical report, the size of his enlarged prostate was decreased to 39.3 cc. Another patient Ahmed has stated, "Before wearing the device, the prostate measure was 75 gm, and the symptoms were: difficulty starting to urinate, weak stream, dribbling at the end of urination. After wearing the device for six months, the prostate measure is 40 gm only, and the previous symptoms has subsided."
Another man, David, with a hugely enlarged prostate – 130 gram, has shrunk it to 37 gram it by wearing Dr Allen's Device for Prostate Care for two years. Please watch the video http://www.youtube.com/watch?v=V5xidswhxJM.
According to the National Institutes of Health (NIH) 'Prostate Enlargement: Benign Prostatic Hyperplasia', BPH medications do not prevent surgery: because drug treatment is not effective in all cases, researchers in recent years have developed a number of procedures that relieve BPH symptoms but are less invasive than conventional surgery.
At the same time, patients after TURP, are asking Fine Treatment for help with the messages like: 'Three months after TURP battling with prostate pain'. Others sharing their experiences on Men's-Health forum on Retrograde Ejaculation after Prostate Surgery, for instance, a message posted on 29 December 2011 reveals, "I was misled by my doctor in 2009. Expected one thing and was incontinent two years after TURP. No warning from the doctor." Another one posted 4 January 2012 says, "After my TURP (2009) I experienced problems about which were not told by the doctors, two years at least incontinence. No orgasms."
"Proper blood circulation helps in transferring oxygen to the cells inside the organ as well as keeps the temperature in a controlled level", says Dr. Simon Allen. "Dr. Allen's device increases blood circulation in the prostate tissue that helps in cleansing it from extra tissue reducing the size of enlarged prostate gradually."
For more details, visit Fine Treatment at http://finetreatment.com/bph-treatment-prostate-enlargement.
About Dr. Simon Allen and Fine Treatment:
Dr. Simon Allen is a highly experienced medical professional. His specialty is in the internal medicine. He has treated a wide range of chronic diseases, including patients after a heart attack, with kidneys problems, including kidney stones disease, prostate and spine conditions, as well as metabolic disorders. Fine Treatment exclusively offers Dr Allen's devices for chronic prostatitis and BPH treatment, coronary heart disease, dissolving kidney stones, as well as back pain and sciatica relief.