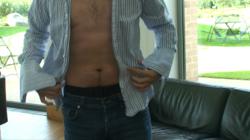 Dr. Allen's therapeutic device is free from any side effects and, by improving prostate's condition, increases potency and libido.
London, UK (PRWEB) July 07, 2012
Benign prostatic hyperplasia (BPH) develops slowly as men get older, and impotence (also called erectile dysfunction, or ED) becomes more common, particularly because of long term courses of BPH medications and surgeries, so the maintenance of the prostate in a healthy condition with new Thermobalancing Therapy is essential, underlines Fine Treatment. Dr. Allen's therapeutic device treats prostate enlargement all the time while it is applied to the body reducing the size of the enlarged prostate and supporting an active sexual life.
An article in the USA Today shows that 1 in 3 men age 75 to 95 remain sexually active. It goes further to analyse a study published in the Annals of Internal Medicine where the authors write: Among sexually active men, 57% were satisfied with their sex life, and 43% wanted to have sex more often, according to the study, which followed men from 1996 to 2009. Among those not having sex, 40% said they simply weren't interested.
"In one of the local surveys carried out in my clinic, it was found that erectile dysfunction, one of the consequences of prostatectomy, was the foremost point of concern for even the elderly suffering from benign prostatic hyperplasia," says Dr. Ahmad Raza, Physician in a tertiary care hospital in Lahore, Pakistan. "New Thermobalancing therapy not only caters for your sexual life, it also helps prolonging it by increasing the blood supply of the whole region."
The Thermobalancing Therapy gives men a chance to improve the enlarged prostate's condition while remaining in good general health. Contrary to other treatments, Dr. Allen's Device for Prostate Care has proved its efficacy; watch, for instance, this video testimonial: http://www.youtube.com/watch?v=dCFy_jZgCLw.
According to the Mayo Clinic, risks associated with the Transurethral resection of the prostate (TURP) include: urinary problems, retrograde ejaculation, erectile dysfunction, and need for follow-up treatment after surgery. As for the side effects of BPH medications, the article in The New York Times titled Common Drug for Prostate Is Ineffective has reported the following: "Men taking Proscar alone or in combination with Hytrin experienced impotence and decreased sex drive more often than those in the other two groups."
"Men's sexual life must be protected from harmful BPH medications and prostate surgeries," says Dr. Allen. "Dr. Allen's therapeutic device is free from any side effects and, by improving prostate's condition, increases potency and libido."
Read more at
http://www.finetreatment.co.uk/prostatetreatmentbph/prostatitistreatment.html.
About Dr. Simon Allen and Fine Treatment:
Dr. Simon Allen is a highly experienced medical professional. His specialty is in the internal medicine and cardio-vascular field, and he has treated patients after a heart attack, with kidneys problems, including kidney stones disease, prostate and spine conditions. Fine Treatment exclusively offers Dr. Allen's devices for the prostate treatment, coronary heart disease, dissolving kidney stones, as well as upper and lower back pain relief and sciatica treatment.