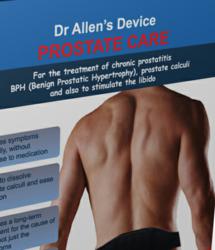 Fine Treatment offers the safest prostate care solution as it is natural and free from adverse side effects.
London, UK (PRWEB) January 24, 2012
A new Thermobalancing Therapy enabled by Dr. Allen's Device for Prostate Care is very effective for the treatment of benign prostatic hyperplasia (BPH) and available from Fine Treatment only. The natural device improves the blood flow in the prostate tissue that assists the body to clean the prostate gland and eliminate prostate enlargement. Different attempts to treat prostate enlargement with supplements, acupuncture and physiotherapy are unsustainable as they do not take away the problem inside the prostate and work only for a short period of time. Medication blocks some functional routes of metabolic processes which are essential for the normal performance of the body. That is why drugs are not only ineffective in the BPH treatment but may lead to adverse sides effects.
According to the National Institutes of Health, an enlarged prostate is often called benign prostatic hyperplasia or benign prostatic hypertrophy (BPH) that means excessive growth of a prostate gland. In essence, it is a non-malignant prostate tumour. It is not cancer, and it does not raise your risk for prostate cancer.
The growth of a benign tumor may interfere with body functions as enlarged prostate presses against the urethra and bladder, interfering with the normal flow of urine. It is a common condition for men but the symptoms may be severe enough to require treatment. The earlier a man begins to treat BPH, the better his chances of getting and staying well. Read more at http://www.finetreatment.co.uk/natural-alternative/prostate-treatment.html.
"Men need to maintain the prostate in a healthy condition to avoid disturbing symptoms in the future," says Dr. Allen. "Fine Treatment offers the safest prostate care solution as it is natural and free from adverse side effects."
Dr. Allen's Devices for Prostate Care consists of a natural thermo-element and soft belt comfortably fitting around the body. Fine Treatment has provided the videos, which show how the new Thermobalancing Therapy helps to treat BPH and how to use the device for prostate treatment and for the prevention of prostate enlargement http://www.youtube.com/watch?v=IS8cHVGXZAU.
About Fine Treatment:
Fine Treatment supports treatments for kidney stones, prostate, particularly chronic prostatitis and BPH, sciatica, upper and lower back pain, and heart.
About Dr. Simon Allen:
Dr. Simon Allen is a highly experienced medical professional with 40 years of work experience in clinical medicine. He obtained a PhD in Medicine in 1978. His specialty is in the field of internal chronic diseases, and he has treated patients with coronary heart disease, joints problems, kidney and prostate conditions.
# # #