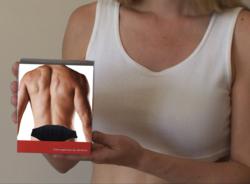 Dr. Allen's therapeutic device reduces symptoms of chronic prostatitis and BPH gradually helping men to avoid prostate surgeries.
London, UK (PRWEB) August 27, 2012
A new consumer product is on the market, Dr. Allen's Device treats prostate effectively, so when dealing with benign prostatic hyperplasia (BPH) or chronic prostatitis, the acceptance of risky surgeries is often unjustifiable due to severe health problems, including sexual disorders, which are likely to follow, Fine Treatment highlights. As reported on 8 August 2012, David Studdert from the University of Melbourne has revealed that doctors are often uncertain about clinical risks to be discussed with their patients prior to the treatment. So the expectation of post-surgical feeling of being "victorious" over conquering the disease, even with the minimally invasive transurethral resection of the prostate (TURP), frequently materialises in regrets.
Different studies have shown similar numbers of occurrence of side effects after TURP. For instance, according to the National Institutes of Health (NIH), retrograde ejaculation has occurred in 72% of the transurethral electrovaporization of the prostate (TUVP) group and 89% of the TURP group.
There are some issues doctors often don't tell before the surgery with side effects being the most important one. A recent article in the Medical News Today (MNT) of August, 12, 2012, Doctors Often Don't Tell Patients about All Risks of Treatment Options states, "According to a review published in the week's PLoS Medicine, doctors in Australia frequently don't disclose all the possible risks about treatment and procedures to patients." This situation has often led to men regretting having a prostate surgery, which is commonly performed without life-threatening conditions.
As a result, men start sharing their experiences on Men's-Health forum on Retrograde Ejaculation after Prostate Surgery. For instance, a message posted on 29 December 2011 reveals, "I was misled by my doctor in 2009. Expected one thing and was incontinent 2 years after TURP. No warning from the doctor." Another one posted 4 January 2012 says, "After my TURP (2009) I experienced problems about which were not told by the doctors, 2 years at least incontinence. No orgasms."
Contrary to surgeries, Dr. Allen's therapeutic device helps to reduce inflammation and the size of the prostate. One of our patients with chronic prostatitis Timo, 38, has recovered from prostatitis in 5 months. Please watch a short video on how Dr. Allen's device has helped its user to reverse BPH: http://www.youtube.com/watch?v=dCFy_jZgCLw.
"A protection of men's well-being from the side effects of BPH surgeries an important issue," says Dr. Allen. "Dr. Allen's therapeutic device reduces symptoms of chronic prostatitis and BPH gradually helping men to avoid prostate surgeries."
For details visit Fine Treatment at
http://www.finetreatment.co.uk/prostatetreatmentbph/prostatitistreatment.html.
About Dr. Simon Allen and Fine Treatment:
Dr. Simon Allen is a highly experienced medical professional. His specialty is in the internal medicine and cardio-vascular field. He has treated patients with a wide range of chronic diseases, such as after a heart attack, with kidneys problems, including kidney stones disease, prostate and spine conditions, as well as metabolic disorders. Fine Treatment exclusively offers Dr Allen's devices for chronic prostatitis and BPH, coronary heart disease, dissolving kidney stones, as well as upper and lower back pain and sciatica treatment.