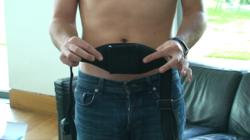 New therapy terminates BPH progression despite of ages, protecting men's wellbeing from side effects associated with drugs and prostate removal.
London, UK (PRWEB) August 10, 2012
In this economically-challenging times many men are struggling to pay their BPH conventional treatments bills and later to cover the costs of treating side effects, which are almost inevitable, while new natural Dr. Allen's device for prostate care is effective and at affordable price for every man, states Fine Treatment. A problem with the expensive prostate treatment options is not only concern of individuals but governments, which try to improve well-being of its citizens. Different conventional treatments of internal chronic conditions require lots of funds but are they necessary?
An article by Dana Ullman, 29 April 2012, 'Swiss government report declares homeopathy is 'cost effective' in treating patients' states, "In this day and age of economically-challenging times for both individuals and governments, this report from the Swiss government has confirmed the efficacy and cost-effectiveness of homeopathic treatment. The fact that homeopathy is also widely recognized as one of the safest methods of medicine is but one additional special benefit for this natural medicine."
Drawing cost data of any conventional BPH treatment should include all expenditures covered from consultation costs (diagnostic and therapeutic procedures), costs for medication, costs for external laboratory analyses and costs of surgeries. Therefore, the costs of enlarged prostate treatment are rising up to much more than 10 thousands US Dollars. Contrary to them, Dr. Allen's device for prostate treatment is offered at the affordable price for everyone, $130 only, and cannot harm, please watch the short video about benefits of Dr. Allen's device, http://www.youtube.com/watch?v=V5xidswhxJM.
Fine Treatment's BPH patients, who have worn Dr. Allen's device for prostate care for 6 months, are positive that the device is helpful: Stephen L., 92, from California, USA, states: "the device is easy to use and it is very effective"; Iamartino S., 62, from British Columbia, Canada says, "seems to be going fine".
"New Thermobalancing therapy is big financial relief for individuals and governments as difference of enlarged prostate treatment costs between Dr. Allen's device and others options rises over ten thousands of US Dollars," says Dr. Allen. "New therapy terminates BPH progression despite of ages, protecting men's wellbeing from side effects associated with drugs and prostate removal."
Read more at http://www.finetreatment.co.uk/prostatetreatmentbph/prostatitistreatment.html.
About Dr. Simon Allen and Fine Treatment:
Dr. Simon Allen is a highly experienced medical professional. His specialty is in the internal medicine and cardio-vascular field, and he has treated patients after a heart attack, with kidneys problems, including kidney stones disease, prostate and spine conditions. Fine Treatment exclusively offers Dr Allen's devices for chronic prostatitis and BPH, coronary heart disease, dissolving kidney stones, as well as back pain treatment and sciatica relief.