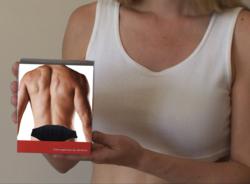 My butcher overplayed the benefits of the surgery.
London, UK (PRWEB) August 13, 2012
Fine Treatment recommends new prostate therapy that can protect men from having BPH surgeries which are dangerous as may cause different side effects, including retrograde ejaculation which is as common as in 85% of cases of minimal invasive transurethral resection of the prostate (TURP), see the records of The George Washington University Hospital. Though most urologists say that retrograde ejaculation is not a serious problem, many men, while sharing their experiences in Men's-Health forum on Retrograde Ejaculation after Prostate Surgery since April 2007, describe this condition as disgusting.
For instance, a message posted on 29 July 2008 says, "I am a 56 YO and had the PVP when I was quite depressed already. Big mistake. I became suicidal afterwards and am still having a really hard time"; or another one posted on 25 June 2011 notes, "Do not get laser prostate surgery – if you still enjoy having sex, you will not afterwards – they don't tell you everything!" On 5 June 2011 another man shared, "I would rather get up 4 times a night and still be able to ejaculate rather than get up twice nightly and have permanent retro. It's that simple - my surgery was elective. My butcher overplayed the benefits of the surgery".
Unlike BPH surgeries, Dr. Allen's therapeutic device treats a prostate by maintaining constant warmth in it that does not exceed the level of the normal body temperature. A thermo-element which is the main part of this device is made from a mixture of natural waxes. No battery or magnets are involved. As a result of this natural treatment, the prostate gland slowly decreases in size relieving LUTS. Several testimonials confirm that prostate treatment developed by Dr. Simon Allen relieves BPH symptoms naturally without resorting to medications; watch, for instance, http://www.youtube.com/watch?v=dCFy_jZgCLw.
"The preservation of men's general health and well-being is crucial; that is why new Thermobalancing prostate therapy has to be used in the first place, preventing complications from BPH surgeries," says Dr. Allen. "Costing less than $150, Dr. Allen's therapeutic device is widely affordable and is a natural way to relieve lower urinary tract symptoms without resorting to invasive procedures."
Dr. Allen's device improves the prostate condition at the capillary level. You can read more at
http://www.finetreatment.co.uk/prostatetreatmentbph/prostatitistreatment.html.
About Dr. Simon Allen and Fine Treatment:
Dr. Simon Allen is a highly experienced medical professional. His specialty is in the internal medicine and cardio-vascular field, and he has treated patients after a heart attack, with kidneys problems, including kidney stones disease, prostate and spine conditions. Fine Treatment exclusively offers Dr Allen's devices for chronic prostatitis and BPH, coronary heart disease, dissolving kidney stones, as well as back pain treatment and sciatica relief.