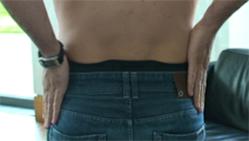 The effective BPH treatment with Dr. Allen's natural device is good news for men aged 50 and over.
London, UK (PRWEB) January 18, 2012
Fine Treatment states that the new Thermobalancing Therapy is a breakthrough solution for men suffering from benign prostatic hyperplasia (BPH). The innovative aspect of the therapy is that it eliminates the aggravating factor, i.e. the lowering of the temperature inside the prostate gland, which ultimately leads to BPH. The good news is that this therapy treats BPH without the risk of having complications in the future.
According to the National Kidney & Urologic Diseases Information Clearinghouse (NKUDIC), the most common prostate problem in men over 50 is prostate enlargement. This condition is called benign prostatic hyperplasia, or hypertrophy (BPH). Older men are at risk for prostate cancer as well, but this disease is much less common than BPH.
Fine Treatment recommends considering all possible treatment options thoroughly in order to understand the arguments for and against the use of a particular method: natural treatment vs medication and surgery.
The Thermobalancing Therapy helps patients to recover from BPH without side effects. Several testimonials confirm that Dr. Allen's Device for Prostate Care can treat prostate conditions effectively. This video, for instance, concerns the prostate enlargement or BPH treatment: http://www.youtube.com/watch?v=dCFy_jZgCLw.
"The effective BPH treatment with this natural device is good news for men aged 50 and over", says Dr. Simon Allen, and adds: "The new therapeutic device can shrink an enlarged prostate naturally relieving the symptoms of BPH."
The natural thermo-element is the key part of Dr. Allen's Device for Prostate Care that acts locally all the time while it is applied to the body correctly, i.e. worn as a belt with the thermo-element facing the lower back area. The device creates the ideal conditions for the body's own natural defence mechanisms to rebuild the damaged tissues in the prostate and recover from the troubling condition. This therapeutic device also restores potency and increases libido. Read more at http://www.finetreatment.co.uk/natural-alternative/prostate-treatment.html.
About Dr. Simon Allen and Fine Treatment:
Dr. Simon Allen is a highly experienced medical professional. He qualified as a medical doctor 40 years ago, and over time progressed from being an emergency doctor to head of hospital. Fine treatment offers a range of Dr Allen's devices including prostate care, kidney stones treatment, coronary heart disease care, as well as back pain relief in the upper and lower back areas, including Sciatica.
###