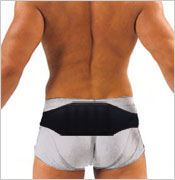 Dr. Allen's therapeutic device reduces BPH symptoms, helping its users to avoid complications from pills and surgeries.
London, UK (PRWEB) October 23, 2012
Fine Treatment recommends Dr. Allen's therapeutic device for the termination of prostate enlargement by enhancing blood circulation inside the prostate locally, while BPH drugs do not prevent prostate surgeries and some of them are no more effective than placebo. For instance, a new study conducted at the Medical University of Vienna confirms the helplessness of the enlarged prostate treatment with botulinum toxin.
'Botulinum treatment benefits in BPH maybe down to placebo effect' article in News-Medical, of 17 October 2012, by Sally Robertson states, the use of botulinum toxins for the treatment of LUTS/BPH has been explored as a minimally invasive alternative for men who have not responded to oral therapies and/or who do not want surgery. However, the findings of a new study at the Medical University of Vienna, Austria show that the "treatment with botulinum toxin has proved no more effective than placebo at reducing symptoms in men with lower urinary tract symptoms (LUTS) due to benign prostate hyperplasia (BPH)."
When referring to Prostate Enlargement: Benign Prostatic Hyperplasia, the National Institutes of Health (NIH) explain that medications for enlarged prostate do not prevent surgery: as a drug treatment is not effective in all cases, researchers in recent years have developed a number of procedures that relieve BPH symptoms but are less invasive than conventional surgery.
Most Dr Allen's device users with BPH see improvement in 3 months time. The time frame varies case by case: some need just several weeks to experience improvement, while others see the improvement in 5-7 months. For instance, a recent feedback received from a 55-year-old BPH user from Toronto, Canada says he has started to feel an improvement to his lower urinary symptoms after 7 months of wearing Dr. Allen's device for prostate treatment. No supplements have been used, and there are no side effects. On the other hand, patients receiving treatments with prostate drugs, removal procedures and surgeries are at risk of developing serious adverse side effects.
Professor of Biochemistry and Urology at the Boston University School of Medicine, A. Traish, says: the side effects are negated once the medicine is ceased but few patients taking Propecia or Avodart experience sexual side effects which are irreversible in nature.
Contrary to medications, Dr. Allen's therapeutic device helps to reduce the size of the prostate naturally. Please watch a short informative video: http://www.youtube.com/watch?v=V5xidswhxJM.
"Suffering from the side effects of prescribed pills is unacceptable when the Thermobalancing therapy is able to help naturally," says Dr. Simon Allen. "Dr. Allen's therapeutic device reduces BPH symptoms, helping its users to avoid complications from pills and surgeries."
For details, please visit Fine Treatment at
http://www.finetreatment.co.uk/prostatetreatmentbph/prostatitistreatment.html.
Dr. Simon Allen is a highly experienced medical professional. His specialty is in the internal medicine and cardio-vascular field. He has treated a wide range of chronic diseases, including patients after a heart attack, with kidneys problems, including kidney stones disease, prostate and spine conditions, as well as metabolic disorders. Fine Treatment exclusively offers Dr Allen's devices for chronic prostatitis and BPH treatment, coronary heart disease, dissolving kidney stones, as well as lower back pain relief and sciatica treatment.