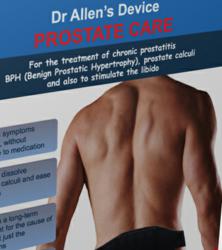 Dr. Allen's devices can reverse BPH and help people to dissolve kidney stones by treating the organs locally that cannot be obtained with placebo.
London, UK (PRWEB) August 11, 2012
New Dr Allen's devices can gradually dissolve even huge kidney stone and reverse prostate enlargement that cannot be reached with placebo as these chronic internal problems are not connected to the mind but with the processes in the organs locally, Fine Treatment reveals. At the same time there are no pills that can improve these conditions, so kidney stone and prostate removal procedures are widely used. Please watch a short video with medical documents how Dr. Allen's device has dissolved a large kidney stone, http://www.youtube.com/watch?v=EOMUqHVrSfk.
The article, 'The placebo effect proves to be good medicine in twelve month study; mind/body medicine is more powerful than drugs and surgery' published in 2004, reveals the study in the Archives of General Psychiatry regarding the experiment with Parkinson's disease patients. It states: even those patients who received the sham operation showed significant improvements in brain and body function a full twelve months later. In other words, they didn't even have the surgery, but they thought they did. So their bodies responded and self healing kicked in.
Another article by Kim Evans, 2009, Placebo Effect Regularly Beats Pharmaceutical Drugs underlines that the fact: drugs are having a difficult time beating the placebo effect, and increasingly so. In fact, they're finding the placebo effect is getting stronger in people, making it more difficult for drugs to show any improvement over it. The credit for the increased placebo effect has been attributed to the increase in consumer advertising, which makes many consumers "believe" more in the drugs and their effects.
"The placebo effect outcomes are illustrating that people have to be careful with potentially harmful drugs, especially with their long-term use, on the other hand the Thermobalancing therapy is able to help patients with enlarged prostate and kidney stones to avoid unnecessary pills," says Dr. Allen. "Dr. Allen's devices can reverse BPH and help people to dissolve kidney stones by treating the organs locally that cannot be obtained with placebo."
Regarding the enlarged prostate therapy with Dr. Allen's device for prostate treatment, new Fine Treatment's case can be added: Yonas N., 54, from Middle East, says "size of my prostate reduced from 56 gram to 45 gram in three month time". Read more at http://www.finetreatment.co.uk/prostatetreatmentbph/prostatitistreatment.html.
About Dr. Simon Allen and Fine Treatment:
Dr. Simon Allen is a highly experienced medical professional. His specialty is in the internal medicine and cardio-vascular field, and he has treated patients after a heart attack, with kidneys problems, including kidney stones disease, prostate and spine conditions. Fine Treatment exclusively offers Dr Allen's devices for chronic prostatitis and BPH, coronary heart disease, dissolving kidney stones, as well as back pain treatment and sciatica relief.