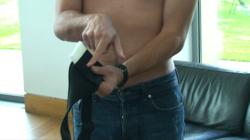 Dr. Allen's therapeutic device helps to improve the condition of the prostate gland gradually with a proven effect over time.
London, UK (PRWEB) August 03, 2012
Enlarged prostate is a common condition which should be treated naturally with new Dr. Allen's Device for Prostate Care in the first instance, as BPH medications and surgeries are frequently associated with serious side effects, highlights Fine Treatment. There is no need to accept such treatment options that will later raise the unnecessary "to be or not to be" concerns, when the Thermobalancing Therapy is able to help without causing side effects. Please watch short video on how it has helped a user to reverse prostate enlargement: http://www.youtube.com/watch?v=V5xidswhxJM.
There are many reports that long-term administration of different medicines can worsen the patients' well-being. Examples are in abundance. A report published in the New England Journal of Medicine raised concerns of the U.S. Food and Drug Administration over the potential of some serious side effects in people taking bone-building drugs. The National Institutes of Health (NIH) raised a question: Can long-term treatment with antidepressant drugs worsen the course of depression? The answer was "yes", as published by the Department of Psychiatry, State University of New York at Buffalo, USA.
"The Thermobalancing Therapy is considered as safe alternative to serious BPH drugs and surgical options", says Dr. Mohamed S. Awad MD, from Egypt. "Firstly, this modality has no serious adverse effects. Secondly, it works continuously on the prostatic gland. Thirdly, it doesn't affect the sexual life of the patient. Therefore, I think that this natural option for the treatment of enlarged prostate should be taken seriously and I am confident while recommending it to my patients."
New Thermobalancing Therapy for BPH helps men to ease the symptoms of enlarged prostate without adverse side effects firstly in daytime and later at night by improving the condition of the prostate gland gradually. It is beneficial to all men regardless of their age.
"Enlarged prostate can be maintained with new therapy naturally, so potentially harmful surgeries or long-term courses of drugs need to be accepted only in exceptional circumstances," says Dr. Allen. "Dr. Allen's therapeutic device helps to improve the condition of the prostate gland gradually with a proven effect over time."
Dr. Allen's Device for Prostate Care treats enlarged prostate gradually. Read more at http://www.finetreatment.co.uk/prostatetreatmentbph/prostatitistreatment.html.
About Dr. Simon Allen and Fine Treatment:
Dr. Simon Allen is a highly experienced medical professional. His specialty is in the internal medicine and cardio-vascular field, and he has treated patients after a heart attack, with kidneys problems, including kidney stones disease, prostate and spine conditions. Fine Treatment exclusively offers Dr Allen's devices for chronic prostatitis and BPH, coronary heart disease, dissolving kidney stones, as well as back pain treatment and sciatica relief.