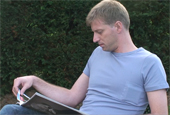 With proven efficacy and no side effects, Dr. Allen's devices for heart and prostate allow men to treat both organs at once.
London, UK (PRWEB) July 30, 2012
Prostate removal procedures and BPH drugs may reduce the quality of life of people with coronary heart disease, while new Thermobalancing therapy can improve the condition of both heart and prostate naturally, states Fine Treatment. Dr. Allen's therapeutic devices are new essential alternatives to coronary and benign prostatic hyperplasia (BPH) surgeries. Dr Allen's devices are harmless. Moreover, these disorders can be treated simultaneously as the natural thermo-elements - key components of Dr Allen's devices - can be applied to different parts of the body at the same time targeting the ailments locally.
The Thermobalancing Therapy helps to relieve symptoms of cardiovascular disease. For instance, Dr. Awad, MD, Tanta University Hospitals, Egypt, states: "Dr. Allen's device is considered effective at every phase of heart diseases and can relieve chest pain and other symptoms associated with myocardial infarction or angina pectoris."
According to the National Institutes of Health (NIH), "BPH: epidemiology and comorbidities", 2006, clinical BPH occurs in about one third of men in their 60s. Although effective treatments for BPH are available, this condition often occurs in the context of common, age-related comorbidities, for instatnce, cardiovascular disease. Alpha1-selective adrenergic receptor antagonists (tamsulosin or terazosin) and 5-alpha-reductase inhibitors (dutasteride or finasteride) have been associated with improvements of BPH symptoms, however, there are differences in side-effect profiles. When selecting an appropriate course of therapy, these side effects and any impact they may have on existing comorbid conditions must be considered.
Prostate cancer patients with cardiovascular disease are far more likely to regret their treatment than cancer patients without heart problems, according to the research led by the Harvard Medical School, USA, 'Prostate cancer treatment worse for heart disease patients'.
Unlike BPH drugs and prostate surgeries, Dr. Allen's therapeutic device has no negative impact on other systems and organs of the body and treats prostate enlargement naturally. Please watch the video, http://www.youtube.com/watch?v=dCFy_jZgCLw.
"Patients with coronary heart disease have a more fragile state of health than those without any heart conditions and, therefore, need to seriously consider any treatment that may reduce their quality of life", says Dr. Simon Allen. "With proven efficacy and no side effects, Dr. Allen's devices for heart and prostate allow men to treat both organs at once."
For more details, please visit Fine Treatment at http://www.finetreatment.co.uk/prostatetreatmentbph/prostatitistreatment.html.
About Dr. Simon Allen and Fine Treatment:
Dr. Simon Allen is a highly experienced medical professional. His specialty is in the internal medicine and cardio-vascular field, and he has treated patients after a heart attack, with kidneys problems, including kidney stones disease, prostate and spine conditions. Fine Treatment exclusively offers Dr. Allen's devices for the treatment of chronic prostatitis and BPH, coronary heart disease and to dissolve kidney stones, as well as provide effective upper and lower back pain relief and sciatica treatment.