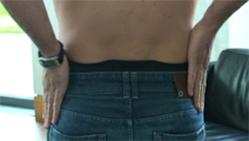 Why men with prostate enlargement must harm themselves with drugs and surgery?
London, UK (PRWEB) January 17, 2012
Fine Treatment reports the fact about a man who has suffered with benign prostatic hyperplasia (BPH) and has used a new Thermobalancing Therapy for BPH treatment. As a result of wearing Dr Allen's Device for Prostate Care his hugely enlarged prostate has shrunk form 130 gram to approximately 37 gram, the normal size a prostate gland does not exceed 30 gram. Previously such extremely enlarged prostate conditions were treated with the open prostatectomy only.
According to the National Institute of Diabetes and Digestive and Kidney Diseases (NIDDK), National Institutes of Health (NIH) transurethral and laser surgery may not be effective on larger prostates therefore an open surgery is often done when the prostate gland is greatly enlarged. With all the open procedures, anesthesia is given and an incision is made. Once the surgeon reaches the prostate capsule, he or she scoops out the enlarged tissue from inside the gland.
Contrary to operations the Thermobalancing Therapy helps suffers with benign prostatic hyperplasia to reduce the size of the enlarged prostate naturally, so it is great news for men's health. Medical documents of a Fine Treatment's patient David were discussed in the video http://www.youtube.com/watch?v=dCFy_jZgCLw where a patient was answering on questions asked by the interviewer from Oxford Innovation and explained how he shrank his hugely enlarged prostate so an open prostatectomy surgery scheduled previously was cancelled. For more information please visit the Fine Treatment website: http://www.finetreatment.co.uk/natural-alternative/prostate-treatment.html.
"The fact that a man can treat his enlarged prostate naturally at home is an immense move forward in the treatment of the prostate enlargement conditions," says Dr. Simon Allen and asks "Why men with prostate enlargement must harm themselves with drugs and surgery?"
As David has described he could hardly believe that when he has been sedated on the operation table the operation plan was changed. The preoperative examination showed that the prostate had shrunk and made a Trans-Urethral-Resection of the prostate – TURP a possibility. The weight of prostate extracted was 37 gram, almost normal. Absolutely amazing! This and other facts of efficacy of new Thermobalancing therapy which has been invented by Dr Simon Allen is now on 21st Century Health, an award winning international television series as the most effective natural treatment for various internal health diseases.
About Dr. Simon Allen and Fine Treatment:
Dr. Simon Allen has worked in different medical clinics and hospitals and has treated patients with cardio-vascular and renal diseases, joints problems and subsequently headed a hospital. Fine treatment offers natural devices for chronic prostatitis and BPH treatment, for the treatment of a coronary heart disease and recovery after a heart attack, to dissolve kidney stones and to relieve back pain.
###