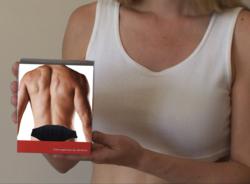 Dr. Allen's prostate treatment device is free from side effects, has a proven efficacy and is affordable for every man around the world.
London, UK (PRWEB) May 07, 2012
Elderly men require special attention to long term benign prostatic hyperplasia (BPH) treatment with medications as they are not safe, contrary to new Thermobalancing Therapy which has no side effects and thus can prevent men from unpleasant complications, Fine Treatment highlights. In the short term BPH medications are effective and allow men get the acute symptoms relief, however, as for the long-term solution of the BPH symptoms treatment or obstruction prevention it should be considered seriously. The main reason for it is an issue that BPH drugs are potentially harmful and the longer men would be taken them the higher the risk of complications.
According to G. Cousens from The New York Times, 2008, Prostate; For Men, Relief in Sight, although no drug offers a cure, "many men can be managed nicely with medical therapy," Dr. Lowe said. The latest thinking is that combination therapy - taking both of the two main types of BPH drugs - achieves maximum benefit. "Alpha blockers like Flomax, Uroxatral, Hytrin and Cardura relax muscle fibers in the bladder and prostate. Other drugs like Proscar and Avodart, called 5-alpha-reductase inhibitors, shrink the prostate over 9 to 18 months. Once the drugs are stopped, however, symptoms typically recur."
Most medical experts, for instance, from Urologix, Inc. Minneapolis, report: "BPH drugs may need to be taken once or twice a day for the rest of men life. Over time, the cost can become a large expense and drugs are not effective for all patients." That is why it is important for any man to use the natural Thermobalancing Therapy that has proven efficacy, see the video how a Fine Treatment patient has shrunk the prostate, http://www.youtube.com/watch?v=V5xidswhxJM.
"BPH medications must be taken for life that increases possibility of the different side effects development," says Dr. Allen. "Dr. Allen prostate treatment device is free from side effects, has a proven efficacy and is affordable for every man around the world."
Dr. Allen's Device for Prostate Treatment creates an ideal environment for capillaries to stabilize the temperature inside a prostate that reduces the pressure in it improving the blood circulation which cleanses the prostate naturally. Read more at http://www.finetreatment.co.uk/prostatetreatmentbph/prostatitistreatment.html.
About Dr. Simon Allen and Fine Treatment:
Dr. Simon Allen is a highly experienced medical professional. His specialty is in the internal medicine and cardio-vascular field, and he has treated patients after a heart attack, with kidneys problems, including kidney stones disease, prostate and spine conditions. Fine Treatment exclusively offers Dr Allen's devices for the treatment of chronic prostatitis and BPH, coronary heart disease and to dissolve kidney stones, as well as relieves lower back pain and sciatica.