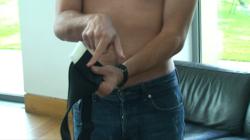 Costing only 130 dollars, Dr. Allen's device for prostate care improves men's health and well-being without resorting to BPH drugs.
London, UK (PRWEB) May 15, 2012
Negative side effects of BPH drugs that seriously affect men's general health can now be avoided by turning to the new Thermobalancing Therapy, Fine Treatment reveals. The issue of BPH drugs causing severe side effects has been a concern for decades. The risks haven't diminished over time but the expense on drugs has gone up. So Dr Allen's device for prostate treatment, a new effective solution on the market, deserves a particular attention.
According to Consumer Reports, treating BPH with medication can run a bill of more than $100 per month. While, the Federal Guidelines for treating enlarged prostate state "that men with mild-to-moderate symptoms may want to consider periods of doctor-monitored observation, or "watchful waiting," instead of choosing drug or surgical therapy right away."
Now it becomes fairly clear why men should turn to the new Thermobalancing therapy enabled by Dr Allen's device rather than stay on BPH drugs. Firstly, this therapy is free from side effects. Secondly, by maintaining a constant body temperature in the prostate locally, Dr. Allen's therapeutic device achieves its unique treatment efficacy. Thirdly, there is now no need to waste cash on drugs.
Dr Allen's Device for Prostate Care works 24 hours a day and creates an ideal environment for blood to pass through capillaries in the affected prostate tissue. This improves the blood circulation and reduces the pressure inside the swollen prostate gland. The improved blood flow cleanses the prostate naturally and over time allows the body to repair itself through its own restorative mechanisms. You can watch a short video: http://www.youtube.com/watch?v=dCFy_jZgCLw, that discusses medical evidence on how this natural therapy has reversed prostate enlargement.
"Why should men pay thousands of dollars for a prostate enlargement treatment and risk having severe side effects, when they can now use the new Thermobalancing Therapy?" asks Dr. Allen and adds: "Costing only 130 dollars, Dr. Allen's device for prostate care improves men's health and well-being without resorting to BPH drugs."
For more details, please visit Fine Treatment at http://www.finetreatment.co.uk/prostatetreatmentbph/prostatitistreatment.html.
About Dr. Simon Allen and Fine Treatment:
Dr. Simon Allen is a highly experienced medical professional. His specialty is in the internal medicine and cardiovascular field, and he has treated patients after a heart attack with coronary heart disease, with kidneys problems, including kidney stones disease, prostate and spine conditions. Fine Treatment exclusively offers Dr Allen's devices for coronary heart disease, prostate treatment: chronic prostatitis (CPPS) and BPH, to dissolve kidney stones, for upper and lower back pain and sciatica relief.