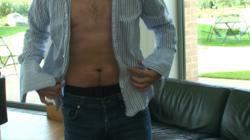 Dr. Allen's device has a proven efficacy for prostate enlargement helping men age 50 and older remain the sexually active life.
London, UK (PRWEB) April 23, 2012
Fine Treatment recommends new Thermobalancing Therapy as a unique benign prostatic hyperplasia (BPH) treatment which is able to reverse the process of prostate enlargement naturally without resorting to potentially harmful medications. This therapy protects men's health and well-being from complications which may be expected from long-term courses of drugs. There are available many options of medications for BPH but none is completely efficacious and none is free from adverse side effects. Therefore, the natural therapy should start without delay when BPH has been diagnosed.
Some of medical researchers are concerned that people are taking drugs without knowing the health problems it can develop in the future. The article, for instance, Legal Drug-Pushing: How Disease Mongers Keep Us All Doped Up, published recently in the Atlantic News, highlights that people can be over-diagnosed and it can be done on purpose, to sell more medications. So, any person needs to know about a drug's potential benefits and harms - in detail.
The American Urological Association notes that men have to take drugs finasteride or dutasteride for 6 to 12 months to get lower urinary tract symptom relief and these medications can cause sexual side effects including ejaculatory abnormalities and erectile dysfunction. Other common used medications such as Tamsulosin and Alfuzosin should be taken for years and can develop dizziness upon standing, vertigo and ejaculation disorders.
Unlike medications, Dr. Allen's device for prostate treatment has no side effects. It increases the blood circulation in a prostate. This lessens the swelling of the gland reducing the urinary symptoms, terminating the BPH progression and, consequently, restoring optimal men's health and well-being. It is very easy to wear the device and it does not impede men's movements. Please see the video how Dr. Allen's device for prostate treatment helps: http://www.youtube.com/watch?v=dCFy_jZgCLw.
"BPH can be treated with new prostate therapy without side effects now, protecting men's health and wellbeing from unnecessary complications," says Dr. Allen. "Dr. Allen's device has a proven efficacy for prostate enlargement helping men age 50 and older remain the sexually active life."
Dr. Allen's Device for Prostate Care improves the affected prostate condition. Read more at http://www.finetreatment.co.uk/prostatetreatmentbph/prostatitistreatment.html.
About Dr. Simon Allen and Fine Treatment:
Dr. Simon Allen is a highly experienced medical professional. His specialty is in the internal medicine and cardio-vascular field, and he has treated patients after a heart attack, with kidneys problems, including kidney stones disease, prostate and spine conditions. Fine Treatment exclusively offers Dr Allen's devices for chronic prostatitis and BPH, coronary heart disease, dissolving kidney stones, as well as back pain and sciatica relief.