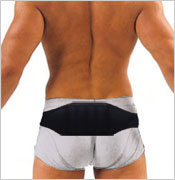 "Dr. Allen's therapeutic device improves blood circulation locally that cleanses the prostate gland reducing its swelling and extra-size naturally.
London, UK (PRWEB) August 02, 2012
Fine Treatment recommends that patients with benign prostatic hyperplasia (BPH) and chronic prostatitis try new Dr. Allen's Device for Prostate Care in the first place, as different surgeries typically cause serious side effects and ought to be avoided my all means. While being totally harmless, the natural Thermobalancing Therapy enabled by Dr Allen's devices is highly effective for the treatment of chronic localized diseases, including BPH and prostatitis.
A recent article in HealthDay News titled Surgery Not Best Option for Early Stage Prostate Cancers, of July 18th, 2012 by Barbara Gray reveals: "When a man learns he has localized prostate cancer, he has to make the difficult choice of surgery, and its possible side effects, or watchful waiting. Now, a large, long-term study suggests that surgery to remove the prostate is no better than careful monitoring: Among men with low-grade, early-stage cancers, a radical prostatectomy did not reduce the risk of death from prostate cancer or from any other cause."
"We showed with prostate cancer there are small benefits to radical prostatectomy and the potential for harm," says the study author Dr. Timothy Wilt, a professor of medicine at the Minneapolis VA Center for Chronic Disease Outcomes Research at the Minneapolis Veterans Affairs (VA) Health Care System.
Patients who used to suffer from prostate enlargement (BPH) and chronic prostatitis / chronic pelvic pain syndrome (CP/CPPS) and have been wearing Dr. Allen's device are happy to share that it has helped them to either recover from these prostate disorders, or to improve the prostate gland's condition. Unlike treatments with surgeries that can pose serious adverse side effects, this new therapy is natural and totally safe.
According to the National Institutes of Health (NIH), "chronic prostatitis is a significant problem for many men and their family members. Patients with prostatitis experience considerable morbidity and may remain symptomatic for many years." However, with the Thermobalancing therapy there is a good chance to recover from this disease naturally. For instance, a chronic prostatitis patient Timo, 38, after wearing Dr. Allen's device for 5 months states: "Not a problem with the prostate condition at a moment, since June, so I am not wearing the device any longer".
Dr. Allen's Device for Prostate Care works 24 hours a day and creates an ideal environment for blood to pass through capillaries in the affected prostate tissue. The improved blood flow cleanses the prostate and over time allows the body to repair itself through its own restorative mechanisms. Please watch a short informative video: http://www.youtube.com/watch?v=V5xidswhxJM.
"The Thermobalancing therapy helps to markedly reduce the necessity for surgeries for patients with prostate disorders," says Dr. Simon Allen. "Dr. Allen's therapeutic device improves blood circulation locally that cleanses the prostate gland reducing its swelling and extra-size naturally."
For details, please visit Fine Treatment at
http://www.finetreatment.co.uk/prostatetreatmentbph/prostatitistreatment.html.
About Dr. Simon Allen and Fine Treatment:
Dr. Simon Allen is a highly experienced medical professional. His specialty is in the internal medicine and cardio-vascular field. He has treated patients with a wide range of chronic diseases, such as after a heart attack, with kidneys problems, including kidney stones disease, prostate and spine conditions, as well as metabolic disorders. Fine Treatment exclusively offers Dr Allen's devices for chronic prostatitis and BPH, coronary heart disease, dissolving kidney stones, as well as upper and lower back pain and sciatica treatment.