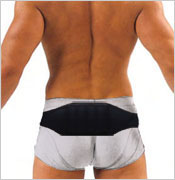 Watchful waiting can cause an emotional distress. So why should men wait for the worsening of the BPH symptoms, when they can try a new Thermobalancing Therapy in the meantime?
London, UK (PRWEB) February 01, 2012
New Thermobalancing Therapy is an innovative natural way to improve the condition of a prostate gland affected by prostate enlargement, Fine Treatment reports. Taking into account that treatment options of benign prostatic hyperplasia (BPH) with drugs and surgery may cause one or more negative side effects, there is no need to rush into applying them without trying the Thermobalancing Therapy which is effective and free from complications.
It's a myth that BPH must be treated with medication and surgery ASAP. The notion that delaying these treatment methods may cause additional problems is doubtful. According to the National Kidney & Urologic Diseases Information Clearinghouse (NKUDIC), there must be a "watchful waiting" stage in the treatment of BPH: "If your symptoms don't bother you too much, you may choose to live with them rather than take pills every day or have surgery. But you should have regular checkups to make sure your condition isn't getting worse. With watchful waiting, you can be ready to choose a treatment as soon as you need it."
A new approach to the treatment of BPH invented by Dr. Simon Allen is directed at dealing with prostate enlargement just as the disease has been diagnosed. The Thermobalancing Therapy is a great chance for men to stop the worsening of the symptoms of prostate enlargement. The video testimonial http://www.youtube.com/watch?v=V5xidswhxJM, for instance, shows how a man has not only eased the symptoms but has also shrunk his prostate at the watchful waiting stage.
"Such watchful waiting can cause an emotional distress. So why should men wait for the worsening of the BPH symptoms, when they can try a new natural therapy in the meantime?" says Dr. Allen. "The Thermobalancing Therapy is effective for BPH, and medical professionals should inform their patients about a possible choice of using this natural prostate enlargement treatment in the first instance."
Dr Allen's therapeutic device works all the hours while it is applied and creates an ideal environment for capillaries to stabilize the temperature in the prostate tissue. This reduces pressure inside the prostate gland and improves the blood flow which cleanses the prostate naturally. Read more at http://www.finetreatment.co.uk/natural-alternative/prostate-treatment.html.
About Dr. Simon Allen and Fine Treatment:
Dr. Simon Allen is a highly experienced medical professional. He qualified as a medical doctor 40 years ago, and over time progressed from being an emergency doctor to head of hospital. Fine Treatment offers a range of Dr Allen's devices including prostate care kidney stones treatment, coronary heart disease care, and back pain relief in the upper and lower back areas, including Sciatica.
###