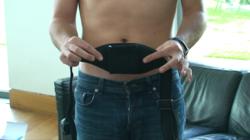 Dr. Allen's therapeutic device is a harmless and effective option for the treatment of prostate enlargement that helps to prevent prostate surgeries.
London, UK (PRWEB) May 20, 2012
Unlike common surgical treatments of prostate enlargement, new alternative Thermobalancing Therapy treats benign prostatic hyperplasia (BPH) without eliminating the prostate and, moreover, this natural option is side effects free, Fine Treatment reveals. Some symptoms such as weak urine flow, frequent urge to urinate, and break in the urine stream are signals of aging men need to look out for with regards to prostate enlargement treatment. It's essential that men make an informed choice of treatment by comparing pros and cons of various options such as natural therapies, drugs and surgeries.
Transurethral resection and prostatectomy involve hospitalization, general or spinal anesthesia and a surgical procedure, in which tissue is cut away with the potential of blood loss and need for transfusion. According to the National Institute of Health (NIH), a prostate surgery has risks just like any other serious surgery: breathing problem, infection, heart attack or stroke during surgery, reactions to medications, and there are also future complications, such as problems with urine control (incontinence) and erection problems (impotence). Thus, following a prostate removal procedure, one or more complications may occur. This cannot be the case when Thermobalancing Therapy, a natural and harmless therapy with proven efficacy, is used.
Dr. Allen's therapeutic device provides a natural prostate treatment option that can save the prostate tissue and men's well-being. For instance, the following video shows that Thermobalancing Therapy can reverse the process of prostate growth, http://www.youtube.com/watch?v=dCFy_jZgCLw. It is also necessary to remember that the symptoms that indicate obstruction of the bladder are signs of a potentially more serious condition as they may sometimes cause damage to the bladder or kidneys. That is why Dr Allen's therapeutic device should be applied as soon as the first symptoms of BPH appear.
"Fine Treatment offers a unique therapy which is a very effective prostate treatment, as it stops the progression of benign prostatic hyperplasia," says Dr. Allen. "Dr. Allen's therapeutic device is a harmless and effective option for the treatment of prostate enlargement that helps to prevent prostate surgeries."
Read more about this natural prostate treatment option at
http://www.finetreatment.co.uk/prostatetreatmentbph/prostatitistreatment.html.
About Dr. Simon Allen and Fine Treatment:
Dr. Simon Allen is a highly experienced medical professional. His specialty is in the internal medicine and cardio-vascular field, and he has treated patients after a heart attack, with kidneys problems, including kidney stones disease, prostate and spine conditions. Fine Treatment exclusively offers Dr Allen's devices for the treatment of chronic prostatitis and BPH, coronary heart disease and to dissolve kidney stones, as well as relieves lower back pain and sciatica.