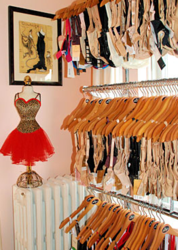 We want to uplift their spirit (in more ways than one) to feel good about themselves and feel confident upon entering a professional workplace.
(PRWEB) April 03, 2013
The bra fit stylists at La Bratique in Minnesota are helping women with more than just fitting for the right bra size. Their new campaign supports the efforts of Tubman's Harriet's Closet in helping women and girls transitioning to self-sufficiency.
For those ladies out there who are in the mood for a little spring cleaning, La Bratique is inviting them to clean out their drawers and finally get rid of some of those gently or never used bras that just never fit right. Maybe they were too tight, too loose or just not supportive enough – whatever the reason, they are calling for donations during the May La Bratique Support Success Bra Drive.
Tubman is Minnesota's largest provider of domestic violence services, accounting for over 20% of the state's shelter beds. Tubman is dedicated to helping women, children, and families struggling with domestic violence, substance abuse, and mental health throughout the Twin Cities. Their shelters in Minneapolis and Maplewood provide safe shelter, legal services, counseling, elder care resources, youth programming, and community education to families and individuals on their journey from chaos and fear – to healing and restoration.
A bra donation will offer much more support than a simple bra; it creates confidence, health benefits and the ability for women to look and feel their best.
At the end of May, La Bratique will hold a bra fitting clinic at Tubman's, Harriet's Closet to assist those in need. Harriet's Closet, a service of Tubman, provides women the opportunity to receive styling advice and shop for professional attire prior to re-entering or transitioning in to the workforce.
"This is a great opportunity for women to support other women in our community who have limited options," says Tracy Anderson, Founder of La Bratique. "We want to uplift their spirit (in more ways than one) to feel good about themselves and feel confident upon entering a professional workplace."
Bra donations should be washed and in good condition. They can be dropped off at La Bratique: 5007 France Ave. S. Monday – Saturday 10AM – 4PM, or at Dana's Apparel stores in Bloomington, Edina, Minnetonka or Woodbury.
Participants will receive 10% off their purchases when they schedule an appointment for a bra fitting during the month of May at La Bratique.
For more information about La Bratique, please visit their website at labratique.com, "Like" them on Facebook, or follow them on Twitter (@LaBratique).
About La Bratique:
La Bratique is a professional bra fit specialty store based in Minnesota dedicated to educating women on their most important garment of the day, their bra. Through their By-Appointment-Service, the knowledgeable staff offers customers the privacy and personal attention that raises lingerie shopping to a full-on personal consultation experience. They offer a wide selection of styles from the best brands in the industry for fit in sizes 30D to 40K. To find out if La Bratique can help you, please visit: http://www.labratique.com.